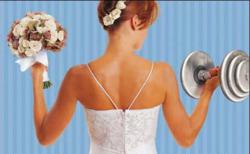 Helping brides and grooms get in the best possible shape--the healthy way--because it's a dress and a tux for a day, but good habits for a lifetime
New York, NY (PRWEB) April 19, 2013
As Gotham stirs with the flurry of activity surrounding Bridal Week, it is a happy occasion to announce The Bridal Body Shop's debut on Internet Radio.
The Bridal Body Shop broadcasts a forum for information regarding exercise and nutrition for brides-to-be, grooms and the rest of the bridal party, with creators and hosts Laurie Towers and Elite Ziegelman. Their coined mantra "It's a dress for a day, bit it's your body for a lifetime" is exemplified on a daily basis by brides and non-brides alike who embrace their philosophy and train with "The Bridal Body Shop". The show premiers Monday April 22 at 3:00PM at http://www.blogtalkradio.com/the-bridal-body-shop
The radio program will include call-ins and email questions from a public hungry for fitness advice. In addition to Towers' and Ziegelman's guidance, special guests will include an array of experts from all walks of healthcare. Special segments will include women's empowerment and roles in society, the body image debate, mental health as a component of fitness, avoiding injuries in work-outs, healthy eating and some powerful detailed discussion of calorie-cutting recipes including website-based photos and/or videos of the food prep.
Based in New York's Upper East Side, the business's arsenal of trainers provide home service and gym sessions to make it ALL about convenience during this hectic period.
"Our mission is to get brides in the best possible shape to embark on their new life—without drugs or plastic surgery," says Towers. "Our personal trainers will create a fitness and diet plan designed specifically tailored for the individual's needs for results, health and lifestyle. So with "The Bridal Body Shop,' it couldn't be easier and safer for the bride-to-be to get in the shape she's always wanted to be in."
For more information on "The Bridal Body Shop" and its services, visit http://www.thebridalbodyshop.com, call 212-460-1879, and "Like" us on Facebook.
The Bridal Body Shop Internet Radio: http://www.blogtalkradio.com/the-bridal-body-shop
###