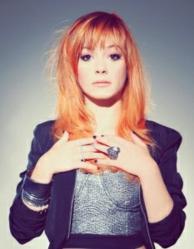 I thought it was completely over, but Blake swooped in and saved the day.
Atlanta, GA (PRWEB) April 21, 2013
Taylor Beckham and Jess Kellner battled it out for Team Usher. While he ultimately chose Jess, Blake Shelton stole Taylor at the very last second. Taylor said, "I thought I was saying goodbye to everybody, I thought it was completely over, but Blake swooped in and saved the day."
At 17, Taylor is one of the youngest performers on The Voice. In her first TV appearance, she sang the classic, 'I'm Going Down' and was picked up by Usher after fighting it out with Shakira.
In an interview after the battle, Taylor said, "I'm really looking forward to Team Blake and I'm so happy that I'm still here."
Taylor previously attended the Actors, Models and Talent (AMTC) SHINE showcase and received interest from top music reps like Sony BMG, Capital and Virgin Records, and the Gospel Music Association. But her 19 callbacks were not just in music. She also impressed acting agents like CESD New York and The Campbell Agency Dallas. AMTC believes in cross training its performers in acting and modeling, which may have helped former classmate, Mathai, make it to the semi-finals of The Voice Season 2.
During the past three decades, AMTC set the standard for serving an unprecedented array of talent agents, managers and casting directors as the "go-to" source for new and aspiring actors, models, singers and dancers. AMTC alumni have been featured in over 600 major motion pictures, television series and Broadway shows, including Footloose, We Bought A Zoo, Identity Thief, Star Trek Into Darkness, COURAGEOUS, The Amazing Spiderman, The Secret Life of Dorks, Grey's Anatomy, The Good Wife, Private Practice, Switched at Birth, Bones, Lab Rats, 90210, American Idol, So You Think You Can Dance, Lion King, Chorus Line, Les Misérables, 9 to 5, Bring It On and Hairspray.
AMTC, a 501c3 non-profit ministry dedicated to making good bolder in film, fashion, music and theater, is currently holding auditions in major cities across the country for the next official SHINE talent showcase being held July 2-7, 2013 at the Gaylord Palms, as confirmed by corporate representatives. They are looking for performers ages 4 and up who want to become positive role models in the entertainment industry.