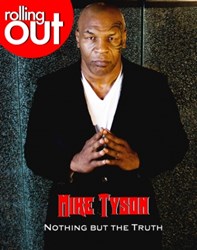 I love moral victories and that's love when you care more about morals then anything else.
Atlanta, GA (PRWEB) April 19, 2013
Mike Tyson finds happiness in simplicity. During a recent visit to his home in suburban Las Vegas, the former heavyweight champion was a bit reserved until he had the opportunity to show off his beloved pigeon coop to Rolling Out's sports editor, Amir Shaw. "All of my friends were animals," Tyson revealed while reminiscing about his turbulent childhood.
Tyson's one-man show, "Undisputed Truth," has enjoyed a string of sold-out shows around the country.
Here's what he says in part:
"No matter what happens in life, never give up. I don't care if you have cancer, AIDS, or arms missing, you have to fight until the end. Never give up. That's why I have a problem with those gangs in Chicago because they don't have hope for a better life. We need hope for a better life and they don't have that in the cities, which is why they're killing people.
"I talk to today's athletes about fame, fortune, sex, and drugs since I went from a massive amount in my past to having to make a lot of amends. Now the athletes respect me – as I'm involved in their life. I love moral victories and that's love when you care more about morals than anything else.
"I'm glad I went through those experiences because I survived them and I look at where I'm at now. Nothing's perfect in life and I love who I am and who I'm becoming. I'm establishing a relationship with my wife and staying committed. I'm really enjoying this stage in my life."
Visit rollingout.com to read the interview in its entirety. Be sure to check out the exclusive photo shoot and video footage with photographer Evans Smith for Steed Media Service.
About Rolling Out Magazine:
Rolling Out, the nation's largest free urban weekly, is a digital and print magazine that focuses on the black experience in response to entertainment, politics, fashion, culture, sports and lifestyle points of interest. Headquartered in Atlanta, Rolling Out is positioned as the voice for the African American experience, using its newspaper as a platform in the marketplace to express urgency for education reform, and to document entrepreneurial endeavors and other relevant issues in the Diaspora. For information on Rolling Out, please log on to rollingout.com.