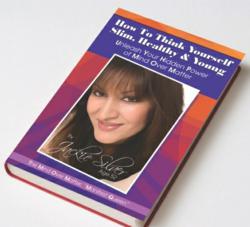 Every time I see Jackie she just looks better and younger. The word that best defines Jackie Silver is 'Ageless.'
New York, NY (PRWEB) April 19, 2013
Mind/body connection study and testing is going on right now all over the world. In fact, research has proven that simply thinking about it can move an artificial limb. This is just one of the tantalizing facts detailed in the new book, How to Think Yourself Slim, Healthy & Young: Unleash Your Hidden Power of the Mind/Body Connection, by anti-aging expert Jackie Silver. Silver is also the author of Aging Backwards: Secrets to Staying Young and founder of AgingBackwards.com.
In this newest book, published by Endless Youth and Life, a company whose mission is to help people stay young and healthy, Silver explores the inner hidden power that everyone has to affect their own bodies and health—positively or negatively. Readers will find out how Silver "accidentally" discovered her own inner power, learn about the placebo effect, read about Olympic athletes who credit their performance to the mind/body connection, find out how to use this inner ability in their own lives to stay slim, healthy and young, and more.
Silver makes sure to emphasize, "You can't just sit on the couch all day and eat bon bons and expect magic to happen. That's not how the mind/body connection works." Through extensive reading, experimenting, researching and interviewing, Silver has put together a concise examination of the power of the mind/body connection without all the usual hard-to-understand science. "I wanted to write a book about a complex topic using everyday language so that everyone could take advantage of this wonderful 'power' we all have," says Silver. "I use it to stay young and I still look very much the same as I did at 25, now that I'm in my 50s," adds Silver.
Don't take her word for it. Bruce Grayson, head make up artist for The Academy Awards, Television Emmys, Grammys and Olay Skincare Ambassador, who knows Silver personally, says this about her: "Every time I see Jackie, she just looks better and younger. The word that best defines Jackie Silver is 'Ageless.'"
Endless Youth and Life Executive Director Paul "Chip" Klingaman says, "There are various secrets to individual success out in society; the most important to me include hard work, persistence, and positive attitude. I hear talk of these each day in my workplace and personal life. Of these three, all of which are important, positive attitude, to me, is paramount. Jackie Silver's book, How To Think Yourself Slim, Healthy, & Young, is an example of the power of a positive attitude and how a positive attitude can guide your life from the moment you wake each day."
How to Think Yourself Slim, Healthy & Young is available exclusively at EndlessYouthandLife.com. Contact Silver via email: Jackie(at)agingbackwards(dot)com.
Source: Aging Backwards