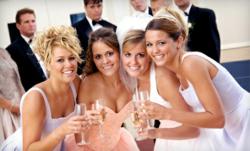 Get speech-writing help from professional writers and comedians for a fraction of the price
Cleveland, OH (PRWEB) April 20, 2013
Wedding season is on its way and with it comes many events – the bridal shower, bachelor and bachelorette parties and rehearsal dinners. But if the wedding itself has a rehearsal, shouldn't the best man speeches have one as well?
Leading best man speech writing company, Laugh Staff, wants to make sure best men all over the country are ready with quips and witticisms when they give their best man speeches. The comedic writers want to go even further and give these best men a discount of 60% for the Laugh Staff professional edited wedding speech package from Groupon.
For $29.99, a pro comedian will help a best man (or maid of honor) craft a memorable, crowd-pleasing toast. Included with this package:

The process begins with a questionnaire and template to help get initial ideas on the paper.
A 15-minute phone consultation with the comedian is also included. During this consultation the client and comedian can discuss how to deliver anecdotes and memories in a way that is appropriate and can be delivered with great confidence and perfect comedic timing.
After the client submits the first draft, the writer will send back up to two edited versions of a polished, engaging speech. All in a 72 hours time span.
"We're excited to offer a Groupon to our clients," said Laugh Staff co-founder Cameron Amigo. "We hope that it will encourage best men to try out our services."
It is an honor to be asked to speak at a wedding, but Laugh Staff understands it can be terrifying for some. Laugh Staff's team of professional writers and comics will work one-on-one with novice speakers to help draft and deliver the highest quality of speeches. It is the client's speech; Laugh Staff wants to help make it better.
For more information about Laugh Staff, Inc. visit http://www.laughstaff.com, call
740-706-6690 or email info(at)laughstaff(dot)com.
About Laugh Staff, Inc:
Laugh Staff, Inc. was founded in 2012 by a team of comedians and writers in Cleveland, Ohio. Laugh Staff helps their clients with best man speeches as well as providing best man speech examples on their blog. They assist best men and maids of honor in speech-editing, speech writing, and provide training on speech delivery. Recognizing the importance of the big day, Laugh Staff's professional comedians work with best men and maids of honor to ensure they make a lasting impression.