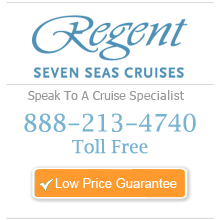 All Inclusive Luxury Cruises
Tucson, AZ (PRWEB) April 21, 2013
After 37 years as one of the largest brick and mortar luxury travel agencies in the Southwest, what was the secret ingredient to becoming one of the top online producers? It began in 2008 when Bon Voyage Travel's CEO Peter Evans recognized the increased shift toward online consumer behavior and began creating specialized niche websites to differentiate the major cruise lines on the market. Regent Seven Seas produces such a top luxury product; they were a natural choice. After six months of analysis and design, they launched their site RegentCruisesSale.com to specialize in Regent Seven Seas cruise packages that include pre and post cruise hotel, air and transfers, and trained online cruise consultants specifically to support Regent Seven Seas. Bon Voyage Travel's sales revenues increased largely due to online shoppers from RegentCruisesSale.com. Eighty percent of all Regent Seven Seas cruise revenue for the company came from RegentCruisesSale.com. Along with increased sales, they received consistent positive reviews and thank you messages from customers. Though they are based in Tucson Arizona, RegentCruisessSale.com serves customers across the U.S. and Canada.
In the last year, their Online Marketing Director Amy Foy specially picked to sail with Regent Seven Seas and visited Regent Seven Sea's corporate offices. These trips and extra training from webinars and in-person visits for agents means RegentCruisesSale.com knows Regent Seven Seas cruises inside out. In 2012 their sales increased dramatically as their niche focus continued to thrive, culminating in their becoming one of Regent Seven Seas top producers in North America. As a top producer, RegentCruisesSale.com gets special training sessions from Regent, special access and increased buying power.
These highly trained online agents specialize in Regent Seven Seas products and can help clients plan Regent shore excursions, hotel stays and manage transportation and transfers. They assist with all aspects of a client's travels, from small details like reserving specialty restaurants onboard, to booking world tours or back to back cruise tours across continents. RegentCruisesSale.com is excited to announce that their sales goal for 2013 Regent Seven Seas Cruises has been met and is able to use its increased buying power to get the best offers for Regent Seven Seas. As a top producer, RegentCruisesSale.com is able to offer the most shipboard credit available, up to $900 on special Europe 2013 cruises. Click here to see all the eligible 2013 European cruises and see the secret of RegentCruisesSale's success: luxury service, luxury savings.