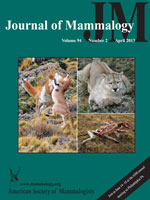 In one year, a single female puma killed nearly 9 percent of adult sheep and 26 percent of spring lambs within a bighorn sheep population in North America.
Lawrence, KS (PRWEB) April 22, 2013
Journal of Mammalogy – Predators can be specialists. While a population of animals may feast upon the same basic prey, individuals within the group can selectively focus upon an alternative species. Wildlife managers seeking to assist the recovery of a rare species may need to center their focus upon these particular predators.
The Journal of Mammalogy presents a study of pumas in South America that illustrates this selection of prey. Nine pumas were monitored for about nine months in Chilean Patagonia using global positioning system (GPS) technology. While previous studies have relied on fecal analyses to determine what prey is being killed and consumed, researchers in this study investigated GPS clusters, which led to the identification of 433 kill sites.
Conflict between pumas and livestock as well as puma predation of the endangered huemul, a deer species, and puma predation of the recovering populations of guanaco, a relative of the domesticated llama, have created conservation concerns in the Patagonian region. Reducing native predators to protect endangered native species is controversial, as is removing the predator to curtail domestic livestock losses. Targeted removal of specific predators may better serve this purpose.
In one year, a single female puma killed nearly 9 percent of adult sheep and 26 percent of spring lambs within a bighorn sheep population in North America. This study also found a puma among the nine tracked that specialized in domestic sheep. Another puma also selected sheep, but did not specialize on them. But the work of these two pumas caused a population-level effect—nearly 4 times as many sheep were taken as would be expected among this population.
One other specialist among the group focused on European hares. While two pumas were more likely to select huemul, overall, the huemuls taken were in proportion to the available population. As a whole, however, this puma population favored guanaco.
Rather than widespread thinning of the population of species preying upon an endangered species, patterns of predation could more effectively be changed by removing the "specialist" animals that particularly focus on the rare species. This, the authors conclude, would allow the two native species to continue to co-exist in the same area.
Full text of "The effects of puma prey selection and specialization on less abundant prey in Patagonia," Journal of Mammalogy, Vol. 94, No. 2, 2013, is now available.
###
About the Journal of Mammalogy
The Journal of Mammalogy, the flagship publication of the American Society of Mammalogists, is produced six times per year. A highly respected scientific journal, it details the latest research in the science of mammalogy and was recently named one of the top 100 most influential journals of biology and medicine in the last century by the Special Libraries Association. For more information, visit http://www.mammalogy.org/.
Media Contact:
Taylor Fulton
Allen Press, Inc.
800/627-0326 ext. 412
tfulton(at)allenpress(dot)com