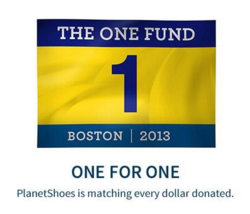 As a local Boston business, we are proud to show our support for the One Fund and encourage our customers to make a donation. - Philippe Meynard, President of PlanetShoes
Waltham, MA (PRWEB) April 19, 2013
PlanetShoes announces it will match customer donations made to the One Fund through PlantShoes.com. The One Fund Boston, Inc. was created by Massachusetts Governor Deval Patrick and Boston Mayor Tom Menino to help the people most affected by the tragic events that occurred in Boston on April 15, 2013, during the Boston Marathon. PlanetShoes will be collecting $1.00 donations through May 15, 2013 and will then match what was contributed by customers up to $10,000.
About PlanetShoes.com
PlanetShoes.com is an innovative lifestyle retailer committed to helping people live healthier, more Eco-friendly lives. The first in the industry to offer a CarbonFree Plus shipping alternative, PlanetShoes.com specializes in products that blend function, style, comfort and value with Eco-ethics. The company proudly offers a wide selection of shoes, bags, and other accessories from more than 180 brands. For more information, visit http://www.planetshoes.com.