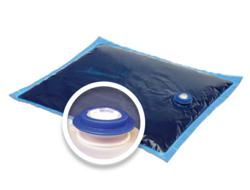 This patent is an important component of Rapak's intellectual property portfolio that covers a broad range of flexible packaging and dispensing manufacturing techniques that are applied to all our products
Romeoville, Illinois USA (PRWEB) April 24, 2013
Rapak of North America — a business unit of DS Smith Plastics and market leader in bag-in box packaging and filling systems—announced today that the United States Patent and Trademark Office has issued US Patent No. 8,97,958 B2 dated March 19, 2013, which relates to the invention of a closure assembly that can be attached to a collapsible or flexible bag and used to store and dispense liquid products such as smoothies, dairy, dairy blends, soft drinks, syrup, and fruit juices.
Rapak patented valve-dispensing technology works well on fruit and dairy based smoothies and is compatible with newer dispensing equipment like Taylor and Manitowoc —all-in-one blend in— dispensers. In addition, this silicone based material is superior to the Thermoplastic Polyester Elastomer (TPE) based valves used by most competitors
"We are confident that the patented closure will be the favorite choice of Quick Serve Restaurant (QSR) and Food Service customers that are looking for a reliable and efficient solution that could be rolled-out across their QSR chain," said Mark Smith, CEO of DS Smith Plastics division and co-inventor of the patented closure. "This patent is an important component of Rapak's intellectual property portfolio that covers a broad range of flexible packaging and dispensing manufacturing techniques that are applied to all our products," concluded Smith.
"The opportunity to develop this closure came to us from a customer who owns one of the largest QSR chains worldwide, and needed a reliable connector and bag solution that could be attached to their newly acquired dairy blends and smoothies dispensers", commented Carsten Pfromm, Vice President Technical Services of Rapak North America and co-inventor of the patented closure assembly. "The new assembly met and exceeded customer expectations, and as a result, Rapak was awarded with the highest supplier award for innovation and speed to market", concluded Pfromm.
About Rapak and DS Smith Plastics
Rapak is a business unit of DS Smith Plastics and a world leader in bag-in-box packaging and filling systems. DS Smith Plastics is a fast growing division of DS Smith Plc. with locations in Europe, North America, the Middle East, South East Asia and Australasia. DS Smith Plastics businesses are focused on six main areas: Flexible packaging and dispensing solutions; rigid packaging; fresh produce packaging; temperature-controlled packaging; foam products and print solutions.
For more information about Rapak and DS Smith Plastics contact Marianne Abreu at marianne(at)abreu(at)rapak(dot)com