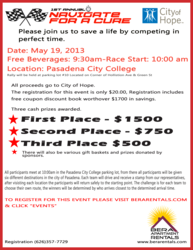 Part of the challenge is for everyone to create their own route.
(PRWEB) April 25, 2013
Bera Rentals is hosting a fundraising event at Pasadena City College in order to raise money for the City of Hope.
The fundraiser is a car rally where contestants are given the location of six different destinations in Pasadena and from there each participant will drive to each of the assigned destinations and pick up a stamp from our representatives.
After visiting each building they will return to the starting point. Part of the challenge is for everyone to create their own route. The winner will be determined not by the fastest but by which person arrives closer to the determined arrival time.
The event will take place at Pasadena City College, parking lot #10 and emceed by 2013 Rose Parade Princess Tracey Cresta. Sponsors of this event include State Farm Insurance and Sparkletts Water.
There is a limited number of contestants, only 100 people will be able to participate -giving you a greater opportunity to win!
When: Sunday, May 19, 2013
9:30am - Free Beverages
10:00am - Start Race
Register Today to Reserve Your Spot by visiting: http://www.berarentals.com and click "Events".
Three cash prizes awarded:
First Place - $1,500.00
Second Place - $750.00
Third Place - $500
Please spread the word!