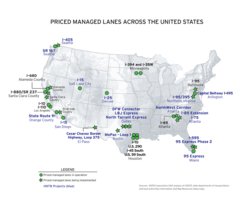 These lanes have been piloted, tested and approved by the motoring public in a number of markets, including State Route 91 in Southern California and Interstate 95 in Miami, and they most recently opened along I-495 on the Capital Beltway in Virginia.
KANSAS CITY, Mo. (PRWEB) April 22, 2013
U.S. drivers could be looking at congestion in their rear-view mirrors if more transportation authorities adopt a relatively unknown "next generation" highway technique known as priced managed lanes. And a new America THINKS survey from HNTB Corporation shows close to three in four of them (74 percent) would be likely to use the lanes if given the opportunity.
Priced managed lanes, also referred to as express lanes, are tolled lanes operating in the middle of non-tolled highways. The price to use the tolled lanes varies to ensure that cars can maintain a speed of at least 45 miles per hour and customers are guaranteed a predictable, congestion-free trip.
"We can no longer build our way out of congestion," said Matthew Click, AICP, Southeast Division director, tolls, for HNTB, and one of the transportation's industry's most recognized specialists in priced managed lanes, corridors and networks.
In fact, according to the survey, more than 2 in 3 (67 percent) of commuters now experience congestion on the drive to work, with 1 in 4 of them (22 percent) saying that congestion costs them more than 20 minutes per day. The recent 2012 Annual Urban Mobility Report from the Texas A&M Transportation Institute says the average U.S. motorist spends 38 hours per year, or almost one entire work week, stuck in peak-period traffic, compared to 16 hours per year in 1982. And that costs (based on wasted fuel and lost productivity) more than $818 for every U.S. car commuter per year.
"Using pricing to control transportation demand and get the most out of the lanes we have is part of the solution," said Click. "It has successfully been piloted, tested and approved by the motoring public in a number of markets, including State Route 91 in Southern California and Interstate 95 in Miami, and they most recently opened along I-495 on the Capital Beltway in Virginia."
Awareness of priced-managed lanes is low among Americans in general (less than 1 in 5, or 17 percent), but the survey also shows that more than two in three Americans (68 percent) would pay to save 15 minutes on roads, bridges or tunnels, $5 on average. Employed Americans are more likely to pay than those who aren't working (72 percent versus 65 percent) and parents are more likely than non-parents (75 percent versus 64 percent) to do so.
Currently, 38 priced managed lanes projects in 10 states are operating or in development. "Clearly there is room for education and study," said Click. "Such lanes may not be feasible everywhere, however, they are an excellent option when congestion is worsening, funding is limited and additional right-of-way is not available."
And, when told about priced managed lanes, 7 in 10 (70 percent) Americans think they should be considered when making improvements to U.S. highways. As previously stated, many drivers like the concept (74 percent would likely use them).
While most of the first priced managed lanes were converted, underutilized carpool lanes, Click said interest among transportation planners now is evolving to encompass other congested stretches of highway as well as the potential development of entire priced managed lanes systems in major metropolitan areas, including San Francisco and Miami.
In the past, critics have contended that such "Lexus lanes" would only appeal to a select elite. However, the HNTB survey shows nearly 2 in 3 Americans (65 percent) think priced managed lanes are more of a useful option, choosing to use them when needed. The survey showed little, if any, difference between drivers with income of more than $50,000 annually and those making less than $50,000 annually when asked if it would be likely they would use the lanes (76 percent and 75 percent, respectively). And Click said today's priced managed lanes carry all types of customers — from small business owners, such as plumbers and house cleaners, to commuting college students and parents in a hurry to see their child throw out his or her first pitch in a baseball game.
"There is no elitism," Click said. "A number of studies have shown everyone uses them when necessary. Plus, pulling traffic off general-purpose lanes also helps relieve congestion in those lanes. That means everyone benefits."
The America THINKS survey also shows more than 4 in 5 drivers (81 percent), regardless of socioeconomic standing, would be likely to use priced managed lanes to make up time due to running late, and more than 2 in 3 parents (67 percent) would do so to make the ride quicker due to having a child in tow.
About the survey
HNTB's America THINKS national priced managed lanes survey polled a random nationwide sample of 1,000 Americans Jan. 24-30, 2013. It was conducted by Kelton Research, which used an e-mail invitation and online survey. Quotas were set to ensure reliable and accurate representation of the total U.S. population ages 18 and over. The margin of error is +/- 3.1 percent.
About HNTB
HNTB Corporation is an employee-owned infrastructure solutions firm serving public and private owners and construction contractors. With nearly a century of service, HNTB understands the life cycle of infrastructure and addresses clients' most complex technical, financial and operational challenges. Professionals nationwide deliver a full range of infrastructure-related services, including award-winning planning, design, program delivery and construction management. For more information, visit http://www.hntb.com.