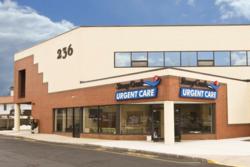 "I'm very excited about opening our second urgent care location in Orange. Our team is thrilled to offer residents in and around Orange fast, affordable treatment of non-emergency medical conditions and injuries." -Dr David Young
Orange, CT (PRWEB) April 22, 2013
Stony Creek Urgent Care's newest facility has officially opened its doors and offers state-of-the-art healthcare to the residents of Orange, Connecticut and the surrounding area. The new facility is located on Boston Post Road. While the facility began serving patients on March 4, 2013, an official ribbon-cutting ceremony on the 18th saw an excellent turn out as excited town officials and the Orange Chamber of Commerce welcomed the new addition.
Urgent care centers are a vital alternative to overcrowded emergency rooms. An immense percentage of patients seeking treatment within an ER can be better treated in an urgent care facility for a fraction of the costs and less time spent waiting for care. Additionally, this relieves the burden on ER medical providers and allows them to focus on providing the best care for true emergency case.
The owner and founder of Stony Creek Urgent Care is board-certified emergency medicine specialist David J. Young, MD, MRO, who is proud to be opening a second location offering residents of Orange and the surrounding areas lower cost, compassionate, high quality medical care.
Dr. Young states, "I'm very excited about opening our second location in Orange. Our team is thrilled to offer residents in and around Orange an option for fast, affordable treatment of non-emergency medical conditions and injuries. I'm also very proud of the positive experience we can provide for our patients and their families."
The Stony Creek Urgent Care slogan is, "Get IN! Get OUT! Get GOING AGAIN!", and that is exactly the credo the professional medical staff live by. Principled on the healthcare community's vast need for urgent care centers to be able to provide fast, affordable medical care, Stony Creek will relieve much of the stress on local emergency rooms, while saving patients time and money, and alleviating the strain on emergency room staff.
"I see it every day as an ER doctor. Up to 80% of the patients we see in the emergency room don't belong there. The situation forces everyone to wait for treatment, and reduces the effectiveness and quality of the care provided by ER staff. Stony Creek Urgent Care changes that, and we will educate both patients and providers on the question of urgent care versus emergency care," Dr. Young stated.
Both the Stony Creek and Branford location are open 365 days per year, and both accept the majority of medical insurance plans as well as Medicare. Stony Creek is also proud to accept United Healthcare insurance now as well.
To learn more about the new Stony Creek Urgent Care facility in Orange, visit the website at http://www.StonyCreekUrgentCare.com.
About Stony Creek Urgent Care: Stony Creek Urgent Care was founded to provide the highest quality healthcare to patients while also offering substantial time and cost savings. Their motto, "Get IN! Get OUT! Get GOING AGAIN!" is exemplified in their attitude toward fast, effective treatment and excellent patient care.