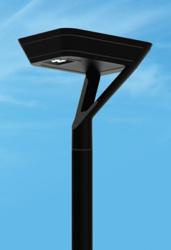 Victoria, BC (PRWEB) April 23, 2013
First Light Technologies Ltd., a leading designer of architectural-quality, integrated solar lighting products for pedestrian applications is pleased to announce the launch of its new pole-mounted, integrated pathway light, or IPL series.
Designed to be installed in various pedestrian applications including pedestrian and bike pathways, the IPL series light combines an architecturally appealing design with cutting edge performance for solar LED lighting. According to Sean Bourquin, Managing Director of First Light, "Most people are initially fooled by the IPL - the high light output from such a compact design leads people to think it can't possibly be solar."
The IPL series builds upon First Light's previous successes with their established solar bollard product suite. The performance is maximized through the use of their proprietary Energy Management System (EMS) technology that allows each unit to "self-learn" about its solar environment based on where it is installed, and budget its light output accordingly. The EMS ensures that, regardless of low-solar weather patterns or unusual charging conditions such as shading, the pathway light continues to provide quality light that enhances the appeal and safety of the night time environment.
Additionally, the IPL has multiple factory set lighting profiles to choose from that allow for tailoring of the light's operating profile to the needs of the user. As an example, the default profile is full intensity for five hours after dusk, then dropping to 30% intensity until one hour before dawn when it goes back up to full intensity. "These profiles, combined with the self-learning aspect of the units, allow our IPLs to maximize output at any given location," states Bourquin. "This is important because the lighting environment can be significantly different from one light to the next, even if they are installed only 50 feet away from each other."
The solar-powered IPL is an excellent lighting solution for pedestrian pathway and bikeway applications as installation costs for traditional lighting can be cost prohibitive due to the cost of trenching electricity to the location. The IPL can be installed in virtually any location that receives a reasonable amount of sunshine, with no regard to the location of grid-based power.
About First Light Technologies
First Light Technologies is a specialized designer and manufacturer of architectural-quality, integrated solar-powered LED lighting products for pedestrian applications. Founded on extensive solar power system and LED lighting experience, First Light strives to make solar lighting effective and simple. First Light solar lighting products are intelligent, adaptive, efficient and robust. Designed to perform around the world, they are a cost-effective and sustainable alternative. First Light Technologies is a privately held company based in Victoria, British Columbia, Canada. For more information call +1.250.590.5774, follow on Twitter @FirstLightTech or visit http://www.firstlighttechnologies.com.