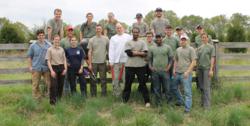 Our company's way of connecting to its conservation mission in a fundamental, down-to earth kind of way.
Frederickburg, VA (PRWEB) April 22, 2013
In keeping with its long-standing tradition and policy of company-wide Earth Day participation, on Friday, April 19th, Marstel-Day, LLC celebrated its 12th Earth Day campaign with over one hundred employees giving back to their communities and the environment across the nation. Marstel-Day's Fredericksburg and Alexandria, VA offices teamed up to complete several service projects in the Fredericksburg, Virginia region.
One group of employees partnered with the Rappahannock River Valley National Wildlife Refuge to assist in trail maintenance, biological work, and posting carsonite trail markers at the Port Royal Unit. This unit is a 125-acre site considered critical floodplain habitat along the Rappahannock River for bald eagles and wintering waterfowl. It is also managed as grassland and shrub habitat for species like vesper and grasshopper sparrows. Rebekah Martin, Deputy Refuge Manager for the Eastern Virginia Rivers NWRC noted that Marstel-Day's contributions were "critical to opening the Port Royal Unit to the public."
A second group of employees volunteered with Tree Fredericksburg, a local urban reforestation non-profit, to plant 90 trees in the Mayfield community in downtown Fredericksburg. Tree Fredericksburg identified this community as a high priority planting spot because it has traditionally lacked tree canopy. The trees Marstel-Day employees planted around the community, in the playground, and along the streets will contribute to a healthier environment for residents in the community. To date, Marstel-Day has planted over 300 trees with Tree Fredericksburg.
A third group of employees continued to build out the native plant garden on the patio of the company's Principal Office in Fredericksburg, VA. Established in 2010, this plant garden provides native habitat for local species and helps reduce runoff.
The Marstel-Day team was excited to join together to work on these service projects and looks forward to making a meaningful environmental impact in its communities each year. President and CEO, Rebecca R. Rubin notes that Earth Day is "Our company's way of connecting to its conservation mission in a fundamental, down-to earth kind of way."
Marstel-Day, LLC, is an idea-driven, value-based environmental company offering green consulting to the public and private sectors. Since its inception in 2002, Marstel-Day has been committed to executing projects that enhance the environment and permanently conserve natural resources and wildlife habitat.