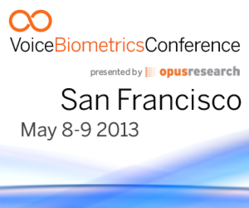 Banks and financial services providers have been the first to evaluate, pilot and implement voice biometrics based authentication systems.
San Francisco, CA (PRWEB) April 22, 2013
By popular demand, Opus Research will convene a roundtable of panelists from Vanguard, Union Bank and Bank of the West at the upcoming Voice Biometrics Conference San Francisco, (May 8-9). Banks and financial services providers have been among the first to evaluate, pilot and implement voice biometrics-based authentication systems for both internal and customer-facing resources.
The panelists will share their viewpoints based on years of experience balancing security considerations with issues surrounding customer experience, employee education, technological compatibilities and return on investment.
The list of participants includes: Ken Palla, Vice President of Union Bank; David Pollino, Fraud Prevention Officer from Bank of the West; and Advait Deshpande, Sr. Manager of Client Services at Vanguard Securities. Collectively, they have decades of experience and represent a 360-degree view of the challenges and opportunities that voice biometrics-based technologies present to the financial services community.
The conference features a roster of more than 30 speakers from around the world. PayPal chief information security officer Michael Barrett, a respected security industry executive and well-known for his ground-breaking work in identity management, will deliver the opening keynote (May 8) highlighting a need for more convenient, strong authentication for electronic commerce and mobile banking.
VBC San Francisco (#VBCSF) also features members of the FIDO Alliance — a consortium of e-commerce technology and service providers promoting a standards-based, open protocol for online authentication — with representatives from Google, Agnitio, Validity and Nok Nok Labs participating in interactive panel discussion on how new technologies, including voice biometrics, represent current alternatives to passwords.
In addition to financial services, the industry's premier global event highlights the potential for voice biometrics to enhance the quality of customer experience and security for telecommunications, consumer electronics, healthcare, government services and mobile commerce.
About Voice Biometrics Conference San Francisco
The Voice Biometrics Conference-SF is the ninth in a series of gatherings dedicated to the business opportunities that take advantage of the fact that each person's speech patterns and vocal tract are unique – like fingerprints. The program showcases real world implementations in contact centers, corporate settings, cars, kitchens, and mobile devices. Sponsors include: Nuance, NICE Systems, IBM, VoiceVault, Voxeo, Agnitio, Sestek, SpeechPro, VoiceTrust, Sensory, TRUSTID, PinDrop Security and Victrio.
About Opus Research
Founded in 1985, Opus Research is the leading industry analyst firm focusing on Conversational Commerce and the Mobile Internet technologies and markets. In addition to convening the conferences, Opus Research's experts publish reports and conduct custom consulting on automated speech processing, natural language understanding and customer care, offered through hosted and premises-based contact centers.