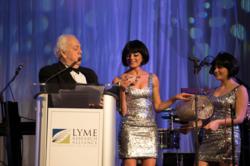 I had never won anything in my life. I was thrilled.
Greenwich, CT (PRWEB) April 22, 2013
When Sara Hager decided at the last minute to attend Lyme Research Alliance's (LRA) "Time for Lyme" Gala recently, she never dreamed she'd go home the winner of a brand-new Mercedes-Benz.
Sara, a retired Georgetown University Italian language professor who is still connected with the University, was in Greenwich as the houseguest of longtime friends Darcy and John Hadjipatras. "They insisted I come to Greenwich to visit for the weekend," said Sara, an Oakton, VA resident who lost her husband of 50 years to acute leukemia in December.
The group went to an off-Broadway play in the afternoon, then they suggested Sara might join them for LRA's benefit in the evening. "We support Lyme Research Alliance for all the important research work it funds," said Darcy Hadjipatras.
Sara decided to attend the event, which was held at the Hyatt Regency Greenwich. Once there, John Hadjipatras, president of Eagle Ocean Transport Inc., purchased some $100 raffle tickets for the car and gave one to her.
Enjoying the evening with her friends, Sara said she "didn't pay attention" when Gala Emcee Ira Joe Fisher selected the winning ticket from the raffle ticket drum and called out the winning number. "But when no one stood up," she said, "I decided to look at my ticket and saw I had won. I was thrilled...and I know my husband would have been shocked."
Sara won a two-year lease on a Mercedes-Benz C250 Coupe which was donated by Pepe Auto Group's Mercedes-Benz of White Plains. Although the car that Sara had won was red, she felt it wasn't the right color for her and the dealership agreed to provide her with a silver car instead. "They were very nice, extremely helpful," Sara said. "Not only do I have the right color for me, but the car is automatic, has a panorama roof, and all the features anyone could want. You name it, the car has it."
Gary Turco, general manager of Mercedes- Benz of White Plains, said he was pleased the lease had been won by Sara. "We are glad we could bring some joy to her," he said. "Knowing what she's been through recently, it makes it a little more special."
Turco, who has been with the Pepe Auto Group for seven years, said that Mercedes-Benz of White Plains actively fundraises for many organizations that both "do a good job" and are dedicated to causes particularly close to his heart. He decided to support LRA because people close to him were affected with the disease.
"We feel fortunate to be working with Gary and Mercedes-Benz of White Plains," said Peter Wild, LRA's executive director. "They are wonderful supporters of our mission to fund research initiatives to improve diagnosis, treatment and ultimately find a cure for Lyme and other tick-borne diseases."
As for Sara, her car will soon be delivered to her in Virginia. "I never had won anything in my life, so it was very unexpected," she said. "I told my friends at my book club this morning 'don't think I inherited a million dollars because I'm driving a Mercedes.' I'm just very grateful to everybody, and grateful that things worked out this way."
_____________________________________________________________________________
Lyme Research Alliance, formerly Time for Lyme, is a Connecticut-based, national non-profit that funds cutting-edge research into Lyme and other tick-borne diseases. For more information go to http://www.lymeresearchalliance.org.