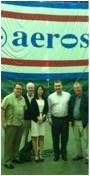 Los Angeles, CA (PRWEB) April 19, 2013
Aeros' Vice Presidents Frederick Edworthy and Ms. Shenny Yao, along with Southern California Congressman Dana Rohrabacher (CA's 48th District), hosted the Ambassador of Azerbaijan, the honorable Elin Suleymanov, and his delegation in Tustin Sunday for a behind-the-scenes look at the Aeroscraft's technology demonstration air vehicle. Ms. Yao explained, "The delegation assembled this afternoon in this historic Marine hangar for a tour and discussion to learn more about Aeros' innovative rigid variable buoyancy air vehicle, the Aeroscraft, and its many commercial and humanitarian applications throughout the country and region."
Azerbaijan is a leading exporter of petroleum and natural gas products. The Aeroscraft is a cargo logistics solution adapted to suit the infrastructure and shipping challenges of Azerbaijan with point-of-origin to point-of-need cargo delivery. The Ambassador acknowledged the Aeroscraft holds potential to accelerate Azerbaijani commerce and global competitiveness, as well as support the country's major trading partners in Europe, the Middle East, Russia and Asia.
"I am impressed with the Aeroscraft technology and capabilities. Vertical Take-off & Landing (VTOL) enabled cargo flights could help Azerbaijan bring to market needed global resources, and accelerate economic and engineering development," commented Ambassador Suleymanov, adding, "The strategic cargo applications of the Aeroscraft have the potential to accelerate our booming commercial industries, including exports of natural resources and agricultural products, as well as support imports of machinery, construction equipment and timber needed for economic development in Azerbaijan."
Ambassador Suleymanov, joined by Political Officer Natig Bakhishov (not pictured), gained a better understanding of how the Aeroscraft will provide new cargo logistic solutions that can speed up construction, commerce and jobs in Azerbaijan and throughout the Caucasus region. Southern California Congressman Dana Rohrabacher brokered the rare opportunity within his congressional district to share details about forthcoming disruptive innovations with the visiting foreign dignitaries. The visit took place in the shadow of the massive rigid buoyancy-managed aircraft, which will have its first outdoor flight in the second half of this year.
Added Aeros CEO Igor Pasternak, "We are very grateful to Congressman Rohrabacher, now in his 13th term, for continuing to globally support the successful commercialization of technological innovations developed in his district."
The Republic of Azerbaijan (Azərbaycan Respublikas) is a resource rich country that lies at the crossroads of Western Asia and Eastern Europe, and the largest country in the Caucasus region bounded by the Caspian Sea (east) Russia (north) Georgia (northwest) Armenia (west) and Iran (south).
About Aeroscraft: The Aeroscraft is a new type of rigid variable buoyancy air vehicle, designed to control lift in all stages of air or ground operations, including the ability to off-load heavy payloads without the need to re-ballast. The Aeroscraft creates a new paradigm for air transportation and logistical solutions. For the first time in history, an aircraft will control and adjust buoyant and dynamic lift, creating unique capabilities beyond what has traditionally been available. This exclusive aircraft is poised to change the air transportation industry as we know it today, and provide tremendous opportunities for business and consumers globally. The key features of the Aeroscraft include a rigid structure, vertical takeoff and landing (access remote locations), automated cargo deployment, and operational abilities at low speed, in hover and from unprepared surfaces.