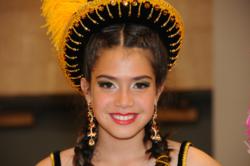 "...more than 30 FunWithChalk street painters..."
Aliso Viejo, CA (PRWEB) April 21, 2013
Soka University's 12th Annual International Festival, which will take place on May 4, 2013 from 10:30 am to 5:30 pm, has announced its entertainment schedule. The International Festival, a proud partner of Orange County's Imagination Celebration (http://www.sparkoc.com), will feature over 900 musicians and dancers performing continuously on three stages, international food, more than 30 FunWithChalk street painters, art exhibitions, ceramic sales and demonstrations, games, inflatable rides and over 250 non-profit and business exhibitors. Admission is free.
2013 International Festival Stage Schedules:
PEACE LAKE STAGE
10:20 AM Pure Atoma Teen Band
10:55 AM Temple Bhajan Band - Vedic Music
11:25 AM St. Anne Middle School Show Choir
11:55 AM Spirit Soul & Friends - Music Peace Troupe
12:30 PM SYRTAKI International Folk Dance Ensemble
12:45 PM Sidney Bowen - Acoustic Duo
1:10 PM ZIMZALA! Folk Music
1:30 PM US Blackbelt Academy - Martial Arts Demo
1:45 PM Van Lang Lion Dance Team
2:00 PM SUA BIRTHDAY CELEBRATION
2:30 PM CHINA DISCOVERY TRIP FOR TWO DRAWING
2:40 PM Instant Radio of SUA - Rock Band
3:20 PM Susana Elena: Spanish & Flamenco Dance
3:45 PM USMC Youth Dance Team - Jazz Dance
4:10 PM SGI-USA Pearl Chorus
4:30 PM Zindagi World Music - Indian Song
4:50 PM Etihad Melodies of SUA - Musical Fusion
5:05 PM KKAP: Konnect KPOP Aspiring Performers - Dance
5:17 PM Dance Appreciation - Hip Hop Dance
5:24 PM Ghungroo of SUA - Indian Dance
RECREATION CENTER STAGE
10:30 AM San Diego Chorus
10:57 AM LA Sunshine Zone Ikeda Youth Ensemble - Dance/Instrumental
11:15 AM Ka' Pilina Ho'olokahi of SUA - Hula/Tahitian/Hakka Dance
11:27 AM Scandia Dancers of Southern California - Folk Dance
11:59 AM Huntington Beach Adult School Senior Line Dancers
12:31 PM JJ & the Habibis Laguna Beach Belly Dancers
12:53 PM Soka Cheerleading Club of SUA
1:00 PM Grupo Folklorico Monte Alban - Mexican Folk Dance
1:32 PM L.A. Bunka - Kai - Japanese Classical Dance
2:00 PM INTERMISSION
2:35 PM Keep Soul of SUA - Hip Hop Dance
2:42 PM SANAD Foundation Children's Group - Sudanese Dance
2:59 PM Pro Dance Center - Salsa/Hip Hop/Belly Dance
3:21 PM Naranjita Flamenco
3:43 PM Isadora Levana - Middle Eastern Dance
3:55 PM RemJ - Michael Jackson Tribute Artist
4:12 PM Jamun - Tribal Fusion Belly Dance
4:29 PM Le Polynesia Productions - Polynesian Dance
5:06 PM Josho Daiko of SUA -Taiko Drums
SOKA PERFORMING ARTS CENTER
10:30 AM San Diego SGI Jazz Band
11:30 AM Grupo Folklorico Los Sonadores - Mexican Dance
12:00 PM Yeun Hee Kang - Korean Traditional Dance
12:15 PM Sualseros of SUA - Latin American Dance
12:30 PM Fraternidad Diablada - Bolivian Dance
12:55 PM Soul Wings of SUA - Acapella Group
1:10 PM Sahba Motallebi - Tar Player
1:40 PM Vita Leonis Philharmonic Orchestra of SUA
2:00 PM INTERMISSION
2:35 PM The Ikeda Kings Orchestra
3:20 PM DrumxCorp of SUA - Drums
3:30 PM V and T Dance - Ballet/Contemporary Dance
4:05 PM Mei-Ling Lee Chinese Dance Group
4:40 PM Rhythmission Hip Hop Dance Club of SUA
4:50 PM Myō ' Õn Taiko - Drums
The FunWithChalk Street Painting Festival will be joining the International Festival for the first time, allowing attendees to watch the creation of beautiful art all during the day. The FunWithChalk street paintings will also be open on Sunday for viewing from 10:30 am - 5:30 pm.
The festival will also feature the art exhibition "Silver Prints: Photography by Tim Volk," a ceramic art sale and demonstrations.
Ritz Tours and Air China are sponsoring a raffle for a chance to win a 10-Day, 8 Night China Discovery Trip for Two. Tickets are $5 (6 for $25, 30 for $100) and all proceeds will benefit the SUA Scholarship Endowment. Tickets may be ordered by mail or purchased at Founders Hall Reception desk from now until the drawing, which will take place at 2:30 pm on May 4th on Peace Lake Stage. Official rules and entry form are available at http://www.soka.edu.
Attendees are encouraged to wear international attire and to celebrate their own heritages. Parking on campus is $10 cash only and carpooling is encouraged. The 103-acre Soka University campus is located off of Wood Canyon Drive one mile south of Pacific Park Drive in Aliso Viejo. For more information: info(at)soka(dot)edu or 949 480-4081. http://www.soka.edu/festival http://www.soka.edu/directions
Soka University of America, Aliso Viejo is a private, non-profit, four-year liberal arts college and graduate program and was ranked in the Top 50 National Liberal Arts Colleges in US News & World Report's "Best Colleges 2013." The campus has a 9:1 student/faculty ratio and an average class size of 13. All undergraduate students study a foreign language and spend a semester studying abroad their junior year. Founded on the Buddhist principles of peace, human rights and the sanctity of life, SUA offers a non-sectarian curriculum and is open to students of all nationalities and beliefs. http://www.soka.edu