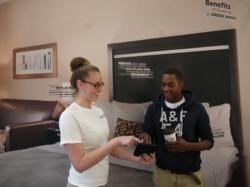 For years, Best Western hotels have been implementing climate-conscious policies and implementing eco-friendly practices, said EDN's Kathryn Stoddard
(PRWEB) April 23, 2013
Best Western International recently participated in Earth Day festivities at Union Station in Washington D.C. as part of its ongoing partnership with Earth Day Network.
In celebration of 'Earth Month' at Union Station, Best Western representatives shared 'green' travel tips to attendees and promoted Earth Day through its social share photo booth. Earth Day revelers were invited to have their picture taken at the event and distribute the image socially to raise awareness.
"The theme of Earth Day 2013 is The Face of Climate Change, and we know that for years, Best Western hotels have been implementing climate-conscious policies and eco-friendly practices," said Kathryn Stoddard, Vice President of Corporate Partnerships at Earth Day Network. "Because of their enormous size and worldwide influence, it's an extremely important step. We're proud to have Best Western as our partner."
To promote the environmentally-conscious practices of some of Best Western's 2,200 North American hotels, a video was created that can be viewed at bestwestern.com/green.
Every Best Western hotel in North America is required to have a sustainability program in place. Best Western properties can support green initiatives in several ways, from having in-room recycle bins, low-flow shower heads, using recycled paper, and linen re-use programs to geothermal and solar-powered hotels that actually sell power back to the grid.
Earth Day Network mobilizes more than one billion people in 192 countries through year-round advocacy, education, public policy and consumer campaigns to protect the environment. The Earth Day Network event in Washington D.C. drew thousands out for a celebration and rally that featured music, speakers, artists, exhibitors and more. More info here: earthday.org.
Photo credit: Best Western International
ABOUT BEST WESTERN INTERNATIONAL, INC.
Best Western International, Inc., headquartered in Phoenix, Ariz., is a privately held hotel brand made up of more than 4,000* BEST WESTERN®, BEST WESTERN PLUS® and BEST WESTERN PREMIER® hotels in more than 100* countries and territories worldwide. Now celebrating 67 years of hospitality, Best Western welcomes hundreds of thousands of guests nightly. Best Western provides its hoteliers with global operational, sales, marketing and promotional support, and online and mobile booking capabilities. More than 15 million travelers are members of the brand's award-winning loyalty program Best Western Rewards®, one of the few programs in which members earn points that never expire and can be redeemed at any Best Western hotel worldwide. The brand's partnerships with AAA/CAA, race car driver Michael Waltrip, and Harley-Davidson® provide travelers with exciting ways to interact with the brand. In 2012, Best Western won a record number of awards, including AAA's Hotel Partner of the Year, CAA's Partner of the Year, TravelClick's eMarketer of the Year and Compuware's Best of the Web Gold awards.
For more information or to make a reservation, please visit bestwestern.com.
*Numbers are approximate and may fluctuate.