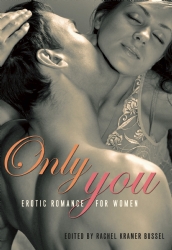 "Fully formed, richly descriptive relationship stories"

— Erotica Revealed
(PRWEB) April 22, 2013
Rachel Kramer Bussel is a pundit on sexuality, passion, and romance, and a prolific erotica author and editor to boot. She is the author of the critically acclaimed Passion, Obsessed, Irresistible, and Only You, all collections of erotica specifically written to reignite the passion of adventurous couples. She frequently weighs in on today's most pressing issues in the realm of love and sex, and continues to edit timely and intelligent erotica with a romantic bent.
Rachel addresses the issue of alcohol and addiction in the BDSM scene on TheFix.com, peeking into the dynamics of an often-underground scene. She again pushes the envelope with her Daily Beast article on Organic, Fair-trade Porn.. Is there such a thing as feminist porn, and if so, what does that mean? Bussel answers these questions and more.
It's a little-known fact that Rachel is a die-hard romantic at heart, but she's actually quite knowledgeable about the sweeter side of intimacy.Redbook featured her as a romance expert in a recent article on how to be sexier in surprising ways. Rachel suggests that when it comes to language, perhaps subtle is sexier than explicit.
As Sarah Estrella of the National Examiner says, Rachel's books offer the chance to see "the fantasies of others brought to life, however foreign or taboo, and the opportunity to step outside of yourself and lose yourself in them."