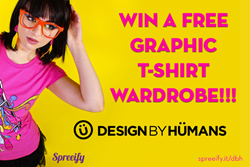 Los Angeles, CA (PRWEB) April 24, 2013
Design By Humans today announces a free graphic T-shirt wardrobe giveaway hosted on social shopping and giveaway platform Spreeify.com.
Since the company's founding in 2007, Design By Humans' simple vision has been to bring together artists from around the globe to give them a platform to produce wearable art that tells a story, strengthens humanity and inspires life through creativity and design.
As appreciation to their loyal and fast-growing fan base, the company has decided to give away one of this year's most exciting giveaways -- a collection of Design By Humans artist-designed graphic t-shirts.
"The Design By Humans fan base is one of the most loyal groups of people that we've come across," says Spreeify founder, Ruben Dua. "Hosting an epic giveaway of an entire wardrobe of DBH T-shirts seemed like the most deserving thing to do."
About Design By Humans
At Design By Humans each garment produced starts with a story told by an artist from one of over 110 countries in their design community that submit 100s of T-shirt designs daily. Free of restraints and inspired by creativity, these artists are empowered with a voice and a platform to amplify their art to the world. Through the Design By Humans Collective initiative, the company has emboldened epic artists and given them a unique platform to share their T-shirt designs through their own online storefront. Proceeds from each sale go directly to the artists allowing them to continue to do what they love.
About Spreeify
Spreeify is a web and mobile-based platform that allows businesses to host social media-driven sales and giveaway campaigns that boost their social following. The company is based in Santa Monica, California. More info at spreeify.com