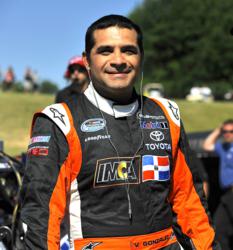 I am excited to bring new Hispanic fans to the Sprint Cup series at Sonoma. I can't wait to show NASCAR fans around the world what Tommy Baldwin Racing and I can do together
Mooresville, N.C. (PRWEB) April 20, 2013
Victor Gonzalez, Jr. will become the first Caribbean driver in a NASCAR Sprint Cup Series race on June 23, 2013 in Sonoma, California. Under a freshly signed contract with Tommy Baldwin Racing, Gonzalez Jr. will pilot the #36 Chevrolet in the Toyota/Save Mart 350 at Sonoma Raceway, as well as at the Sprint Cup Series Cheez-It 355 race at Watkins-Glen, NY on August 11, 2013.
"I am excited to bring new Hispanic fans to the Sprint Cup series at Sonoma," Gonzalez, Jr. said. "I can't wait to show NASCAR fans around the world what Tommy Baldwin Racing and I can do together."
A Puerto Rican native who now races for his resident country, the Dominican Republic, Gonzalez Jr., made history in 2009 when he was the first Caribbean driver to compete in a NASCAR Nationwide Series event, finishing 14th in his debut in the 2009 running of the NAPA 200 at Circuit Gilles Villeneuve in Montreal, Canada. Gonzalez Jr. returned to the Nationwide Series for four races in 2010, making his oval track debut at Phoenix International Raceway. In 2012, Gonzalez raced in the Nationwide Series at Road America and at Watkins Glen International.
About Victor Gonzalez, Jr.
In addition to his NASCAR experience, Victor Gonzalez Jr., has won over 30 races and multiple championships in various road racing classes internationally, and 2012 won the national championship in his new naturalized home of the Dominican Republic. For more information on Victor Gonzalez Jr., please visit him on Facebook, Twitter or Instragram. Media queries and interview requests, please contact Kendall Almerico with Silver Visibility at 813-410-4658.
About Tommy Baldwin Racing
NASCAR Sprint Cup Series (NSCS) Crew Chief Tommy Baldwin formed Tommy Baldwin Racing (TBR) in 2009. Baldwin utilized a declining economy to open a NSCS team with a stringent budget. The team worked to build to full-time competition, and by the 2011 season, the team's third season, TBR competed in every race and locked the No. 36 Chevrolet in the top-35 in NSCS Owner Points. Dave Blaney drove the No. 36 Chevrolet to TBR's highest finish of third in the October 2011 event at Talladega Superspeedway. In 2012 both cars fielded by TBR finished in the top-35 in points.
Based in Mooresville, N.C., TBR will compete in the NSCS in 2013 with NASCAR veteran Dave Blaney driving the No. 7 Chevy SS and JJ Yeley piloting the No. 36 and sharing the ride with Gonzalez Jr.