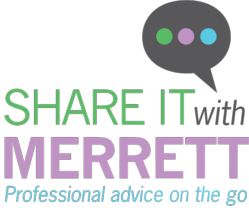 Consumers can now use their phones to get quick
answers and advice for day-to-day problems.
San Jose, CA (PRWEB) April 22, 2013
Merrett Sheridan, M.A., LMFT, quickly realized that traditional therapy wasn't the answer for the majority of people looking for quick answers and practical advice. Sheridan's new ShareItWithMerrett.com service provides practical advice, answers and insight using 20-minute phone appointments at the low cost of $2 a minute.
"I've created a convenient and confidential way for people to approach and resolve day-to-day problems," says Merrett Sheridan, founder of ShareItWithMerrett.com. "Wouldn't it be nice to have a licensed therapist available in a quick, convenient and confidential way from the comfort of your home?"
Sheridan provides expert advice and insight for topics and questions on parenting, relationships, family issues and dealing with sticky situations at work. There's no requirement for returning to an office week after week or delving into deep psychological dynamics.
"The process starts with making an online appointment," Sheridan emphasizes. "From there, we'll discuss the problem and I'll help provide advice and practical solutions."
The services are 100% confidential and offer an objective, third-party perspective on topics that can be causing stress or problems. Sheridan offers a straight-forward approach to both the problem and how it affects her clients.
Daily stressors can cause wear and tear on your emotional health, says Susan Charles, lead author of a study published in Psychological Science. Taking care of problems now can have a positive effect even on long-term health.
Licensed Marriage and Family Therapist, Merrett Sheridan, is founder of ShareItWithMerrett.com. Sheridan provides her services on an as-needed basis, with a low-cost of $2 a minute for appointments in increments of 20 and 40 minutes. Sheridan holds California LMFT license #49177 and is based in San Jose, California. Sheridan's services are available by phone, Skype or FaceTime anywhere in the US.