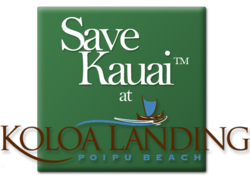 Koloa, Hawaii (PRWEB) April 22, 2013
Dedicated to preserving the pristine island it calls home, Koloa Landing announces their brand new environmentally conscious Save Kauai™ package. Beginning April 22nd, Earth Day, guests can enjoy the Poipu Beach resort's Save Kauai™ package and all the perks that come along with going green.
How does the package work? Save Kauai™ is yet another way the resort shows its commitment to living clean and green. By agreeing to daily towel, trash and soap refreshes and full cleanings every three days, guests drastically reduce the water and cleaning supplies used by housekeeping services.
Going green will save guests some green, too: The resort offers a free $50 credit to spend in their Gourmet Marketplace and Kama'aina Surf & Beach Club good for groceries, sundries, beach rentals and more. Guests will also receive a "Save Kauai™ at Koloa Landing Resort" bracelet offering exclusive discounts at select locations at the nearby Shops at Kukui'ula Village, home to premier dining and shopping on the island. Some of the locations included are:

Josselin's Tapas Bar & Grill
Merriman's
Tortilla Republic
Dolphin Restaurant, Fish Market, & Sushi Lounge
Lappert's Ice Cream
Uncle's Shave Ice
Bubba Burgers
Dude Dogs
More to come
Koloa Landing is known for being one of the premiere Poipu Beach hotels with its refined and elegant interpretation of the true Hawaiian experience. Since its inception, the resort has been mindful of its impact on the environment and has eagerly sought ways to reduce its local footprint. Inspired by the strength and generosity of so many who are dedicated to preserving this unique landscape, the resort hopes to become synonymous with "green living", and to that end has adopted a long list of initiatives and principles to support this very idea, such as water and energy conservation programs, eco-friendly amenities, and now the Save Kauai™ package.
For more information on Koloa Landing Resort, visit KoloaLandingResort.com and read about Save Kauai™ and other exciting vacation packages. Or call 888.317.0205 to make a reservation today for a Poipu Beach vacation you will remember for a lifetime.
About Koloa Landing Resort
Koloa Landing at Poipu Beach is a leading luxury resort with the most beautiful Kauai beach villas. With its pristine location, world-class amenities and high-end accommodations, Koloa Landing Resort is a dream destination for a family vacation or a private getaway. Twenty-five acres of lush, tropical landscaping situated less than a mile from Poipu Beach offer two resort pools, a brand new state-of-the-art fitness center and full-service spa coming summer 2013. Quite simply, Koloa Landing is the authentic Hawaiian experience at its most refined. Make a reservation today by visiting KoloaLandingResort.com or calling 888.317.0205.