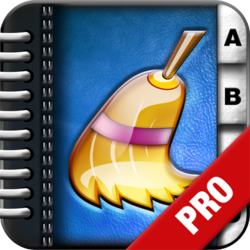 I would recommend TraductoPro to other Mac and iOS developers for their localization projects as it accelerates the turn around time of localizing the app project as well as the App Store description. -- El Kaissi
New York, NY (PRWEB) April 23, 2013
The creator of Contacts Duster Pro , MyClickApps.com, localized their app in multiple languages using TraductoPro, an app localization tool created by Visual Frames LLC. Contacts Duster Pro is a popular app where users can merge and purge duplicate contacts in their address book, manage contacts, and easily find and connect with friends with SMS messages and emails.
The creator of Contacts Duster Pro found the following to be most challenging when localizing his app prior to using TraductoPro:
1. The project size was very large and it was time-consuming to make the strings localizable.
2. The inability to manually track the changes in the code. For instance, when adding codes with new strings, then run the genstrings script, it would be difficult to keep track of the new strings in order to send them to translators.
3. Getting the strings translated from .string files, as some translation services require a list of strings to be translated (i.e, "Group" = "Group" vs. only "Group"), which is tedious for 100 or more strings.
4. Getting the translation strings then injecting them into the .string files.
"TraductoPro tracks changes in the project and asks you to import the changes with one click, you have all new strings ready to be translated. It's extremely easy to add strings for localization as well as importing the translation back. Using the "Run Macronization" feature, it's super easy to automatically inject NSLocalizedString in your code," said Muheiddine El Kaissi, creator of Contacts Duster Pro.
TraductoPro's most recent release contains modifications that support large Xcode project files. In cases like Contact Duster Pro, where the there are many strings to localize, and the project is very large, TraductoPro has proven to cut app localization processes and time significantly.
"I would recommend TraductoPro to other Mac and iOS developers for their localization projects as it accelerates the turn around time of localizing the app project as well as the App Store description," said El Kaissi.
The creators of TraductoPro are confident that it is a revolutionary tool for developers who now must create apps to meet the needs of users worldwide, particularly those users who prefer to download apps in their native languages. Since the U.S. only makes up approximately 30% of the world's market share for apps, TraductoPro is a welcome surprise for app developers who want to improve sales of their apps worldwide.
The company has received a positive response from developers with small- and large-sized projects and continually seeks feedback to improve developer's experiences with the localization tool.
About Visual Frames and TraductoPro
Visual Frames LLC is an e-commerce and mobile services company dedicated to providing innovative technologies and solutions for businesses worldwide. Traducto was developed by Visual Frames, along with a very talented team of developers and translators. Together, their experience is unmatched in providing easy solutions for translating content and sharing it with the world. For more information, visit http://www.traductoapp.com.
About Contacts Duster Pro
Contacts Duster Pro was created by Muheiddine El Kaissi of MyClickApps.com, an app development company that has many popular apps on the App Store. Contacts Duster Pro is a very popular app that is an address book cleaning tool that streamlines contact management and communications for the iPhone and iPad. For more information about the app, visit: http://www.contactsduster.com/ or Click Here to view or download in the App Store.