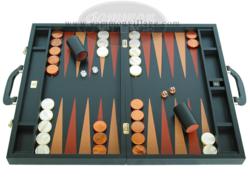 Leather Backgammon Sets from Zaza & Succi, Italy's premier design house.
Cheektowaga, NY (PRWEB) April 22, 2013
The largest online supplier of Backgammon sets, GammonVillage, is now carrying the complete line of luxury leather Backgammon sets and boards by Italy's premier design house, Zaza & Sacci. Flawless in design, these Backgammon sets are cherished by pros and amateurs alike, and are routinely passed on as family heirlooms.
As part of the line's launch, a 5% discount is available for a limited time at GammonVillage.com by using the bonus code: ONLINE105. Sets range from $595 to $2,450, with free ground shipping to anywhere in the United States.
These gorgeous leather Backgammon boards are the perfect embodiment of high-quality materials and superior craftsmanship which is found in every Zaza & Sacci product. Finished in exceptional Dollaro leather, with immaculate inlays on each playing surface, the sets come in a variety of fashionable colors with inlaid leather points and beautiful mother of pearl designed checkers.
In every Zaza & Sacci leather Backgammon set, aficionados can expect superior finish and construction, and these sets close firmly with nickel-plated magnetic clasps. As an added bonus, every Zaza & Sacci Backgammon board comes with precision dice, and 100% ready for Backgammon tournament action.
"As a long-time Backgammon player, I wanted to deliver the world's finest Backgammon sets and boards, and make them available to anyone interested in the game," says Mel Dragicevic, GammonVillage's founder and chief designer. "Zaza and Sacci are the finest of all Backgammon sets, and I am thrilled to carry the complete line for all of my valued customers."
"Just to let all of you know that my shipment arrived in great condition and looks great on my backgammon table. Your customer support was excellent. Thanks a million." - Garret C., Florida.
For a fashion statement connoisseurs can have the case in either lizard or croco leather also in a variety of colors.
Features of Zaza & Sacci leather Backgammon sets:

over 40 unique styles and designs
top-quality leather/microfiber Backgammon sets
table top Backgammon sets
Sizes: 15", 16", 20", 23", 31 1/2"
Colors: orange, pink, black, red, green, blue, brown
Price: $595 to $2,450
Visit http://www.gammonvillage.com or call (866) 260-2058 for more info.
About GammonVillage.com
Since December 1999, more than 100,000 classic game enthusiasts have flocked to GammonVillage, the Internet's largest and most respected classic board games store. Dedicated to providing the ultimate online experience, GammonVillage offers top quality backgammon, chess, mah jongg, dominoes and other classic game products. For more information about the Zaza & Sacci Backgammon Sets or to purchase a gift certificate, visit GammonVillage.com or call (866) 260-2058.