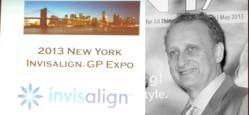 "Accelerating othodontic care is a remarkable technological achievement."
Red Bank, NJ 07701 (PRWEB) April 22, 2013
The first Invisalign Expo for general dentists was held Friday April 19, 2013 at Scholastic Event Services in NYC. Attended by Dr Robert Korwin and over 100 general dentists, the successful event featured speakers on a variety of orthodontic topics describing the tremendous technological and clinical advancements since Align technology began. The treatment, diagnosis, troubleshooting, finishing and case retention of severe malocclusions were featured. Evidence based techniques were introduced, and computerized scanning was demonstrated as well. All levels of Invisalign treatment were reviewed, introducing subjects for beginning practitioners, as well as experts with similar proficiencies like Dr Korwin (who has treated hundreds of orthodontic patients with Invisalign.)
Surgical acceleration with only slight discomfort was discussed. This technique results in treatment times which are reduced by 25% or more when cytokine inflammation is artificially induced. This newest technique promises to revolutionize orthodontic care by accelerating time spent in either clear trays or traditional orthodontics using wires and brackets.
Technological advancement of clear aligners has come a very long way since its inception as this remarkable event demonstrated.
Contact Dr. Korwin at 732-219-8900 for further information.
Practicing in the Red Bank/ Middletown/ Monmouth County New Jersey area for over 31 years, Dr. Korwin holds a distinction held by less than one percent of all general dentists with a double Master of General Dentistry as well as a Master of the International College of Oral Implantologists. Dr Korwin is one of only two highest honors graduates of the two year Progressive Orthodontic Seminars. He has held positions in state, and local organizations involved in dental care as well as having been appointed to two hospital dental training institutions, to the boards of the oldest dental sedation training organization in the US, and to a professional board appointed by Governor Christie of New Jersey. He has been honored by SLD, and by Straine Consulting as one of Americas Top Dentists, he has been designated as one of the best of Red Bank's dentists.
Dr. Korwin provides trusted, and excellent dental care providing cosmetics, orthodontics, implants, periodontal surgery, veneers, whitening and sedation.
Robert Korwin DMD MICOI MAGD, Advanced Dentistry with a Gentle Touch
562 State Route 35 Union Square Office Commons
Red Bank, NJ 07701 732-219-8900 http://www.drkorwin.com
Media Contact
Robert Korwin DMD
732-219-8900
http://www.drkorwin.com
###