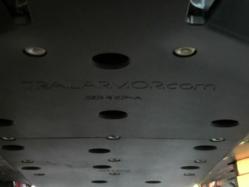 The goal was to include a mix of parts in each stage to increase safety, comfort and performance. We also created install videos of some of the more complicated modifications so customers could follow how to install these products themselves step-by-step
Phoenix, AZ (PRWEB) April 22, 2013
SBS Parts announced Friday that Stage 1 of its Project RZR4 XP 900 vehicle build is complete. The 2012 Indy Red RZR4 Walker Evans Edition was acquired by the company in December of last year to serve as a test bed for its RZR4 side by side parts and accessories. Owner Kevin Connors explains, "We wanted to simulate how most enthusiasts go about modifying their vehicles by doing a progressive buildup using one of the most popular models on the market. The goal was to include a mix of parts in each stage to increase safety, comfort and performance. We also created install videos of some of the more complicated modifications so customers could follow how to install these products themselves step-by-step."
The first stage of the buildup began with the addition of an Extreme Metal Products half windshield and Pure Polaris roof. Dragonfire Racing front bucket and rear bench seats were added along with Crow 5 point harnesses for increased comfort and security. Pro Armor doors with black aluminum door skins provide increased protection and are the perfect height to rest your arms on. Trail Armor UHMW full length skid plates protect the entire undercarriage. A K&N Air Filter and Two Bros. dual exhaust noticeably increase throttle response, adding another 7-10 HP. Two Bros' P1X silencers lower the exhaust tone to a subtle grumble. Finally, sand tires mounted on black steel wheels were bolted on for the vehicle's first trip to Glamis.
The second stage of the build will begin in mid July, and the company is considering front and rear bumpers, a full graphics package, an electric winch, billet mirrors and grill and some more aggressive performance mods. SBS Parts has also recently acquired a Can Am Commander XT Project vehicle that it will begin modifying this Summer.