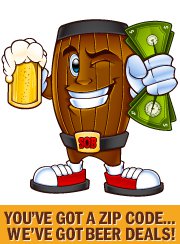 We can't let them keep jacking up our beer prices like this. It's ridiculous!
Houston, TX (PRWEB) April 23, 2013
It can be expensive to take the family out to the ballgame in 2013. The folks at beer price search engine SaveOnBrew.Com recently released the 2013 MLB Stadium Beer Price Report, which shows ounce-per-ounce comparisons at every major league ball field in America. In addition, the group has tips to help baseball fans save even more money on beer.
The 2013 MLB beer price report found that the most expensive beer was more than double the cost of the least expensive beer. At the Angels' Stadium of Anaheim, fans will pay $4.50 for a 16 oz beer – which boils down to 28 cents per ounce. By contrast, Red Sox fans will pay $7.25 for a 12 oz beer (or 60 cents per ounce) at Fenway Park.
Here are a few tips from SaveOnBrew to save money on beer this season:
1. Visit a neighboring stadium. Why pay $6.75/beer at the San Francisco Giants stadium, when one can pay $5 at the Oakland A's stadium? That's a 20 cent per ounce difference! LA baseball fans can save 9 cents per ounce and get beers for $4.50 (rather than $6.75) by watching in the Angels play, rather than the Dodgers.
2. Take a road trip. On the east coast, one can save on beer by driving to Philadelphia – where the beer is 37 cents per ounce – rather than watching the Yankees (50 cents), the Mets (48 cents), or the Giants (56 cents). "Sure, it may cost you in gas money to drive an hour and 45 minutes to Philly," concedes SaveOnBrew's Mark Davidson. "But it's the principal! We can't let them keep jacking up our beer prices like this. It's ridiculous! Besides, road trips are fun."
3. Go early in the season. This time of year, stadium owners are desperate to fill seats and hook fans for the season. Fenway Park is experimenting with lower prices -- for the month of April, at least. "We're looking for ways to fill the ballpark, and hopefully this will help," Red Sox chief operating officer Sam Kennedy told the Boston Globe. He added that they thought the buy-one-get-one hot dogs, free kids' meals and $5 12 oz beers would be "an appropriate gesture" to say "thank you" to patrons. Not surprisingly, many fans responded with outrage that Fenway Park only extended the price drop for the season's opening month.
4. Pre-game at home and bus it. Not only can fans save $10 to $25 on parking, but they can also find super cheap retail beer sales by looking at local prices in the free search engine at SaveOnBrew.com. One can search by beer brand, type, container, or local retailer. Sales and specials are updated daily. On any given day, there are close to 350,000 deals listed.
The full 2013 MLB Stadium Beer Price Report can be found at SaveOnBrew.Com.
# # #
About SaveOnBrew.Com: Founded in 2010 to help thirsty beer drinkers across the United States find the lowest advertised prices for one of the world's most popular beverages.