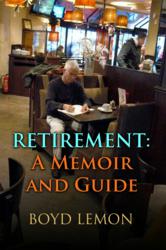 I loved this book. Mr Lemon is a wonderful author and shares his experiences in a very thoughtful and thorough way.
St. Marys, GA (PRWEB) April 25, 2013
Author Boyd Lemon urges children of seniors to assist parents in shift to retirement. Too many retired people end up feeling useless, with no purpose. Many suffer from episodic depression as a result, making what could be the best time of their lives, the worst time. Boyd Lemon knows that preparation is essential to experiencing fulfillment during retirement. Lemon suggests finding a passion to pursue during retirement.
"Retirement: A Memoir and Guide" shows how all retirees, like the author, can overcome the challenges retirement brings by preparing emotionally, discovering a passion, maintaining close relationships with adult children and grandchildren, avoiding loneliness, living in the moment, minimalizing, achieving happiness by lowering expectations, slowing down, deciding where to live, finding new friends, appreciating the beauty that surrounds us, travel and meeting other challenges that come with retirement.
Boyd Lemon's book, "Retirement: A Memoir and Guide" guides readers through the steps to secure the best time of their lives in retirement. Lemon encourages retirees to take life slowly, revel in the beauty of it all, and pursue a passion dear to one's heart. Lemon emphasizes that these are the keys to avoiding the loneliness and episodic depression many retirees suffer from and in turn having a pleasant, fulfilling retirement. "Retirement: A Memoir and Guide" is available in print and Kindle format on Amazon.
About Boyd Lemon:
Boyd Lemon lived most of his life in Southern California and moved to Boston in March 2007, where he stayed until spring of 2010. Boyd later relocated to Europe for a year, splitting his time between Paris and Tuscany. Boyd's writings are largely based on his life experiences. He has written seven books including, "Eat, Walk, Write: An American Senior's Year of Adventure in Paris and Tuscany", "Digging Deep: A Writer Uncovers His Marriages", "Unexpected Love and Other Stories", and his latest publication "Retirement: A Memoir and Guide." Boyd maintains a riveting travel blog "Boomers and Seniors" in which he discusses his travels and recommends economical travel options for baby boomers and seniors. To learn more about Boyd visit http://boydlemon-writer.com/.