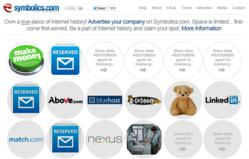 Quick and forward-thinking companies will jump on the opportunity to be a part of an exclusive group.
Dallas, Texas (PRWEB) April 22, 2013
The very first registered domain name on the Internet is 28 years old. Back in March of 1985, the Symbolics Computer Corporation staked their claim to the world's first Internet address: Symbolics.com. In 2009, this historic asset changed hands when an investment firm out of Dallas, Texas purchased Symbolics.com from the original registrant. Symbolics.com has remain largely unchanged for the past 3 decades.
Today, XF.com Investments - the owners of Symbolics.com - have announced an opportunity for a select number of companies to participate in a unique advertising program. Symbolics.com is allowing companies both large and small the chance to "own a piece of true Internet history." Through their program, a finite number of advertising spots, or "circles," are available for companies to lease for their own promotional efforts. XF.com Investments predicts that the spots will sell out quickly, to a select few quick moving companies.
"We have received countless request from organizations looking to purchase a text-link on Symbolics.com for the SEO benefits," says Aron Meystedt of XF.com Investments. "Our new development concept satisifes this desire and also allows companies of all sizes to own a true piece of Internet history," Meystedt adds. Meystedt says that Symbolics.com receives a very significant amount of traffic, and that the participants in the Symbolics.com venture will benefit from the enormous crowds that visit the historic URL.
"We are offering a simple leasing program in which a company can own their small piece of Internet history for a 6-month term." Symbolics.com allows companies to upload their logo into their preferred circle with a linkback to their company website. Meystedt anticipates several creative individuals will think outside the box in order to draw attention to their leased position. "Whether you want to add your corporate logo for name recognition or a unique icon that stirs visitor curiosity, participants are encouraged to get creative when uploading their images," Meystedt noted.
The pricing for the promotion has been set as low as possible based on surveys and interviews over the past few weeks. Aron Meystedt notes, "We kept the price at a minimum so companies of all sizes could participate. We are very excited to open up Symbolics.com and allow everyone an equal opportunity to stake their claim to this piece of Internet history." XF.com Investments anticipates a wide range of participation from legacy Internet companies, small businesses and even academic institutions.
Interested companies and individuals are encouraged to visit Symbolics.com soon, as all spots are taken on a first come, first served basis.