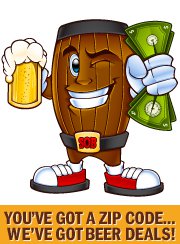 We tell them that dark isn't a flavor; it's only a color.
Houston, TX (PRWEB) April 24, 2013
Owners of microbrew shops get a vantage point that not everyone can see. They notice which types of beers are flying off the shelves, which beers people are afraid to try, and how people's palates grow over time. Amanda K. Danielsen and Sue Lara opened the Hoptron Brewtique in Long Island in November 2012 to sell the type of beer they wanted to drink and expand people's taste buds. SaveOnBrew – the internet's only retail beer price search engine – interviewed the ladies for an exclusive feature in their daily Beer Blog.
"We have a large amount of people who come in that are super new to the craft beer world," Amanda Danielsen told SaveOnBrew. "So we sell a lot of what you call 'gateway beers' –- Blondes, Kolsches, German pilsners -- great beers and quality beers that are lighter than, say, a stout, but that are still really flavorful."
"My gateway beer was definitely Blue Point's Toasted Lager," admitted Sue Lara. Later, she said her taste expanded to include Ithaca Flower Power and IPAs. "A high quality microbrew doesn't have to be only for beer geeks – it doesn't have to just be a big double IPA at 10% or anything," she says. "But it has to have great flavors and consistency in the product."
One of the things they noticed in their shop is that newcomers to the craft beer world were afraid of the darker beers. "We fight what I call the color barrier," Danielsen explains. "We tell them that dark isn't a flavor; it's only a color. You can have a light-colored double IPA and it will kick your 'you-know-what,' or you can have a Long Ireland Breakfast Stout at 3.5% that is super drinkable and very light in mouthfeel." She adds that women, in particular, are worried that dark beers will be heavy or bitter.
To overcome the stigma, the owners of Hoptron Brewtique say they pitch the ingredients in the beer – chocolate, coffee, fruit, or merely a clean crisp flavor. This opens minds and breaks down barriers, rather than saying, "Here is a porter: try it."
Other topics discussed include: the perception of beer in America, marketing to women, the Long Island beer scene, educational experiences involving beer, the best food/beer pairings, and the future of craft beer industry. The full interview can be read at SaveOnBrew.Com.
# # #
About SaveOnBrew.Com: Founded in 2010 to help thirsty beer drinkers across the United States find the lowest advertised prices for one of the world's most popular beverages.