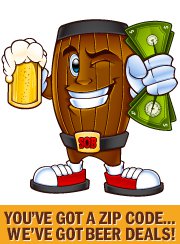 I once brewed a five gallon batch of Chinese 5 Spice Ale that tasted like cough syrup.
Houston, TX (PRWEB) April 25, 2013
There are some good aspects of being the first brewery inside a casino. For instance, there is a steady stream of customers interested in the product. On the downside, says Brew Brothers' Greg Hinge, "Everything is a long ways from the brewery. The movement of grain alone is a huge task."
In an exclusive interview with SaveOnBrew.com, Greg discusses all things beer. He talks about the growing popularity of craft beer, new flavors brewers are experimenting with, and what he's learned from years as a brewmaster.
"We never had a full-size batch of beer go totally wrong," he told SaveOnBrew. "However, I once brewed a five gallon batch of Chinese 5 Spice Ale that tasted like cough syrup. Chinese 5 Spice is very strong, even in small amounts!"
On the other hand, the best beer he's ever had was the Duchesse de Bourgogne. "From the very first sip, I was in love," he says. "The flavors were overwhelming – unusual flavors like tart cherries and damp oak. It's still my most favorite beer…. If I knew how to make an exact replica of the Duchesse de Bourgogne, that would be the one."
As for his favorite Brew Brothers beer, he admits it's hard to pick just one. "It's kind of like picking your favorite child," he says. "With that being said, if I had to pick one, it would be the Big Dog IPA." He adds, "With IPAs, it's not just about the hops. Beers must be balanced – proper hop and malt content are essential."
The hardest beers to get right are the light beers, he says, because there is no way to mask brewing defects with dark malts or added hops.
Currently, Brew Brothers of Reno, Nevada are releasing a new American-style porter, a Belgian session ale (called "Hot Pants"), a Belgian abbey, a rye lager, and a collaboration malt liquor Imperial pilsner.
The full interview can be found on SaveOnBrew.Com.
# # #
About SaveOnBrew.Com: Founded in 2010 to help thirsty beer drinkers across the United States find the lowest advertised prices for one of the world's most popular beverages.