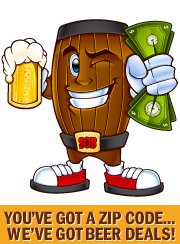 Each hop variety has different essential oil.
Houston, TX (PRWEB) April 26, 2013
Homebrewers and aspiring brewmasters will find the inside scoop behind what it takes to mass produce beer for a Gordon Biersch restaurant in this week's SaveOnBrew exclusive interview with head brewmaster Dave Collins.
Unlike other brewmasters who leave their kitchens and start their own companies, Collins comes from a more formal background – which is evident by the technical details he spews effortlessly. "I had two years of structured classroom learning," he explains. He also attended a Teaching Brewery, which is the perfect place "to make mistakes," he adds. "Believe me, people made mistakes there – such as dropping a man-way door into a finished fermenter full of about 9 barrels of beer."
The most interesting aspect of brewing is the hops, he tells SaveOnBrew. "Each hop variety has different essential oil," he explains. "Oil contents break down to 4 large groups…. Citrus/grapefruit/mango/pineapple flavors… or they could taste like pine needle/cedar wood/ spicy/peppery /evergreen, or just earthy/grassy. Some flavors are still being described."
He goes on to say that new hops coming out of New Zealand "smell and taste like sauvignon blanc grapes, gooseberry, or herbal teas." This makes choosing the hops a fun challenge, according to Collins.
Yet, the maltier beers tend to be the biggest sellers at Gordon Biersch in Syracuse, New York. "Our most popular standard beers are the Marzen and the Golden Export," Collins says. "The Marzen has great malt sweetness with notes of caramel and bready biscuit/graham cracker character and just enough bitterness to clear that residual sugar off of the palate."
"The Golden Export is what I call a 'bridge beer'. It is the lightest in flavor of all the beers we make but being a beer that is all malt (with no corn or rice adjunct) means it is a more full flavored beer than the macro-produced beers of this style…. It is a very easy-drinking, lighter lager."
In this SaveOnBrew exclusive, Collins also discusses his best and worst beer batches, how beer compliments food in the restaurant, how to make a good session beer, how to brew in the German tradition, and a detailed description of what a typical workday is like for him.
The full interview can be read on SaveOnBrew.Com.
# # #
About SaveOnBrew.Com: Founded in 2010 to help thirsty beer drinkers across the United States find the lowest advertised prices for one of the world's most popular beverages.