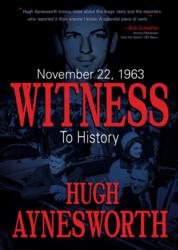 "A splendid piece of work." - Bob Schieffer, Anchor/Moderator, "Face the Nation" CBS News
Dallas, Texas (PRWEB) April 24, 2013
Brown Books Publishing Group signs renowned journalist, author, and historian Hugh Aynesworth to new book deal.
A four-time finalist for the Pulitzer Prize, Aynesworth offers readers an inside, in-depth account of that tragic day in his new book "November 22,1963: Witness to History" (available September 2013).
Bob Schieffer, anchor and moderator of "Face the Nation" on CBS News, says, "Hugh Aynesworth knows more about this tragedy and the reporters who reported it more than anyone I know. A splendid piece of work."
"Texas Monthly" describes Hugh Aynesworth as one of "the most respected authorities on the assassination of President John F. Kennedy."
To learn more, visit http://www.HughAynesworth.com and http://www.BrownBooks.com.
About the Author
Hugh Aynesworth, a four-time finalist for the Pulitzer Prize, was a reporter working for the Dallas Morning News at the time of the Kennedy assassination and covered this historic event for paper. He has also served as a national correspondent for the "Washington Times," as southwest bureau chief of "Newsweek" magazine, and investigative team leader for ABC's "20/20."
About Brown Books Publishing Group
Brown Books Publishing Group is an Texas-based independent publisher. To learn more about the publisher, please visit http://www.BrownBooks.com.
# # #