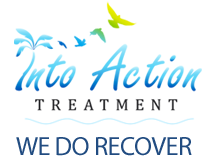 Boynton Beach, Florida (PRWEB) April 20, 2013
Into Action Treatment Center is celebrating family weekend this weekend at their alcohol and drug rehab center. The family weekend experience is always a great time for the clients who welcome their family members to the center and to get a glimpse into their new drug and alcohol free lives. This might be the first time that their families have seen their loved ones living a drug free life.
This family weekend is different than others, because Into Action Treatment invited famous recovery singer Sonia Lee to perform at their drug rehab. She is a shining light of hope and promise for all of those in recovery from drug addiction. To learn more about Sonia Lee and her music, visit her website here: http://www.sonialee.net
The clients and families of Into Acton Treatment alcohol rehab were fortunate enough to here Sonia Lee perform twice this weekend. Sonia Lee devotes herself to spreading the message of recovery not only in her music, but also in her life. Andrey Rossin is the founder of the South Florida drug rehab center and he was very excited to invite Sonia down to perform for family weekend. "Sonia is a wonderful singer and her message to the clients was very powerful and inspiring. She is a beacon to all people in recovery on how to live a great life and make a difference in the world," said Rossin.
Into Action Treatment is a small 24 bed coed Florida drug rehab center located in Boynton Beach. Into Action is a very unique center, which focuses on long term recovery for addicts and alcoholics. Most treatment centers in the industry are 28 days, however Into Action is a minimum of 45 days, while most clients who complete the program end up staying over 90 days, even if their insurance money has run out. For more information on Into Action Treatment and how they can help those affected with addiction, visit their website at http://www.intoactiontreatment.com, or call their 24 hour hotline at 1-855-933-6732 for free addiction advice and treatment options. They are a partial hospitalization program with intensive out patient, and aftercare services. They focus on long term, sustained recovery from addiction.