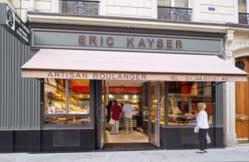 "comments online should never be taken lightly." Ciaran Connolly, Co-Founder of ProfileTree
Paris, France (PRWEB) April 21, 2013
From breads to delicious cakes, Eric Kayser, a third generation French pastry maker sat down with ProfileTree to talk about the passion and business mind behind the success of La Maison Kayser and the path to making unique cakes, true perfection.
Eric told the story of his bakeries and the passionate everyday baking trip for the freshest most delicious breads and cakes. He also praised the use of the internet and social media because "Our customers love to know what is new and we love knowing what they think about our product. It helps us improve our recipes and service."
Ciaran Connolly, Co Founder of ProfileTree advise business owners to not only look at social media for promotion but also for development "everyone's shares/comments/likes or dislikes are a golden chance for a business owner to develop his/her venture to the best it could be, comments online should never be taken lightly."
About ProfileTree: ProfileTree is a free listing service where self employed and small business owner can create an online marketing profile. From Pencil or Portrait Artist to Self Employed Service Providers - anyone can create a skills profile on ProfileTree for free.