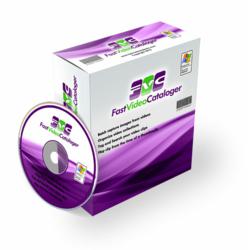 The missing piece in my multiple monitor video workflow when browsing about 1200 videos on my devices
Uppsala, Sweden (PRWEB) April 28, 2013
Video Storm Sweden AB has released Fast Video Cataloger 2, the second generation of the video asset management system. This version focuses on the natural workflow for video clips. Every module has its own dockable window and is configurable in many combinations. Fast Video Cataloger 2 acts as a control centre for video clips with close integration to windows enabling drag and drop from other programs, renaming and organizing of files.
Fast Video Cataloger 2 is a video clip management software for Windows designed to handle large collections of video files without using servers or cloud computing. The program extracts a series of evenly-spaced thumbnail images representing the scenes in each video. This enables a visual navigation on video scenes inside complete clips in seconds instead of watching the duration of clips. Each thumbnail doubles as a playable bookmark for that scene and can be enriched with keywords for filtering and searching. Fast Video Cataloger 2 use companion images such as cover art, drawings or photos to enrich each video clip.
Fast Video Cataloger 2 bring support to advanced multi monitor user layouts allowing any module to be arranged on any screen to optimize for a productive workflow. User layouts can be saved for a later point in time enabling fast setup of favourite layout configurations. With the file organizer module in Fast Video Cataloger 2 the actual video files on the windows file system can be renamed, moved or deleted from inside the program. Files can be dragged to external a media player, video editor or online storage solution from within the program.
Drag files or folders into Fast Video Cataloger 2 and the program automatically builds thumbnails for video scenes, and add the information to the current catalog. Fast Video Cataloger 2 handles big volumes of video clips on a standard Windows PC. Keyword searches is used to identify all individual scenes in an entire catalog and present relevant footage. New thumbnails for important scenes can be added manually by the user while playing.
Fast Video Cataloger 2 is a tool for PC users in any profession managing video clip collections.
Fast Video Cataloger 2 works on Windows 8/Windows 7/Vista/XP with .NET framework. A single-user license costs $197(US). Multi-user discounts are available. Fast Video Cataloger 2 free trial can be downloaded from http://videocataloger.com/download.
For more information about Fast video cataloger 2, contact Videostorm Sweden AB, Stalgatan 28b, 756 48 Uppsala, Sweden Internet: http://videocataloger.com/ Phone: +46 (0)734 297147 Email: contact(at)videocataloger(dot)com
# # #
Editorial Evaluation Copy Available on Request
About Videostorm Sweden AB:
Videostorm Sweden AB is developing and selling video and image software for Windows. In addition to Fast Video Cataloger, the company also offers Fast Video Indexer, an application that builds index photos and web pages from digital video library; Inzomia Viewer, a lightning-fast image viewer that uses anticipatory buffering to pre-load the next image while the user is enjoying the current one; and Video-GIF, a program that turns videos into stunning animated GIF files. For more information, visit http://www.inzomia.com/.