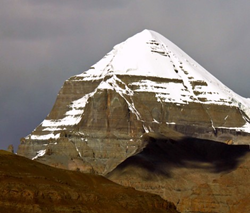 (PRWEB) April 21, 2013
Explore Tibet, a Lhasa-based tour company, is now offering trips to holy Mount Kailash in western Tibet. The 20-day tour includes a trip to Tibet's capital, Lhasa and Lake Manasarovar.
"This thrilling spiritual odyssey follows in the footsteps of devoted pilgrims around mystical Mt. Kailash and divine Lake Manasarovar," Explore Tibet have said. "As well as the religious prominence of the region, the beautiful Himalayan panoramas and striking landscape along the meandering trail capture the attention of worldwide explorers."
Kailash's 6,174-meter snowcapped peak stands prominent over the Barkha Plain, flanking the sacred lakes Manasarovar and Rakshas Tal. The distinctive shape of its four-sided summit stands stark against the Gangdise mountain range, also called the Trans Himalaya, the home for sparse lone nomads whose lifestyle remains close to what it has been for centuries.
Like Mount Kailash, Lake Manasarovar is a place of pilgrimage, attracting Hindu, Buddhist and Jain devotees from India, Nepal, Tibet and neighbouring countries. Nearby are the sources of the some of the longest rivers in Asia: the Brahmaputra, the Indus, and the Kamali, an important tributary of the Ganges.
According to Hindus, bathing in the lake and drinking its water are believed to cleanse all sins.
Explore Tibet is a locally-owned Tibet travel agency committed to responsible tourism, Tibetan travel permit and sustainable practice.