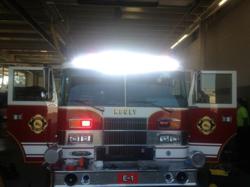 HiViz projects more light onto the scene or fire ground than any of its competition and we offer an unprecedented Life Time Warranty all for a competitive price. That is a high value alternative that cannot be ignored. - Sam Massa, Founder, HiViz LED
Lillington, NC - April, 2013 (PRWEB) April 22, 2013
Ultra bright, rugged, and offering the industry's only Life Time Warranty, HiViz LED Lighting will be unveiling its broad family of next generation of FireTech LED lighting solutions for the emergency / fire / rescue market at the 2013 FDIC show in Indianapolis, IN, including the latest brow light and scene light solutions. With the brand name "FireTech", HiViz LED Lighting ensures that its offerings are proven on the fire ground and used by experienced firefighters to ensure the function and safety meets first responder's needs and exceeds that of the FireTech competition.
All HiViz LED Lighting FireTech lighting solutions come with the emergency/ fire/rescue industry's only Life Time Warranty for lighting solutions. This is a straightforward replacement warranty for the light head for the life that the customer owns the light. If the light head stops working virtually for any reason other than crushing it, HiViz LEDs will replace it. Battery and other components carry a one-year warranty.
The brightness of the HiViz LED Lighting FireTech offerings is only exceeded by its breadth of lighting solutions. It begins with the industry's brightest brow light in a sleek, low profile design that looks like it was made to fit on the front of a fire engine rather than an afterthought bolted on. The ultra-bright brow light comes in widths of 46", 65", and 72" and now offers unique features of "split optics" and embedded marker lights. FireTech brow lights are made with corrosion-resistant extruded aluminum that are 2 to 4 times brighter than a single FRC Spectra or Whelen Pioneer LED light. An informative demonstration of the split optics can be seen by clicking here.
"Life Time Warranty, Split Optics, and Embedded Marker Lights are leading edge features." explains Sam Massa, Founder of HiViz LED Lighting and creator of the FireTech Brand of lighting solutions. Sam continues, "The amount of light that actually reaches a scene from our brow light is measured in either LUX or foot candles. Either way it is 2 to 4 times brighter than our competitors. It's that simple."
The FireTech product family also includes ultra-bright scene lights that can be ordered alone or as a standard package with a Tele-Lite™ tri-pod, push-up or pull-up pole. The FireTech Scene Light can also be fitted to any industry standard tri-pod or industry standard push up pole provider. "All of the scene lights include the optional FlexPower™ feature, allowing them to operate on both A/C and D/C current, so as to have the ultimate in power source flexibility," says Sam Massa, owner of HiViz LEDs.
If a fire department requires extensive scene lighting, then HiViz LED Lighting can provide a WilBurt Light Tower outfitted with the FireTech ultra-bright scene lights instead of standard offerings. The patented pulse width modulation technologies of the LED light driver make for a cooler operation of the light to be typically under 80 degrees Fahrenheit. This, along with the solid state aspect of LED lighting, means that the FireTech light tower does not have light instrument failures due to having to lower and transport the lights while still hot which makes them vulnerable to failure due to vibration. The FireTech light tower is vibration isolated and impervious to such heat related and vibration related failures.
The FireTech product family continues with a 3,500 lumen Work Light which offers the best cost per lumen in the industry. The optic pattern is configured to act as a spot light and a flood light at the same time, thus eliminating the need to adjust the angle of the light or choose between spot or flood. "The multi-joint lights that are common on fire apparatus also are also highly prone to failure." Says Sam Massa, founder of HiViz LED Lighting. "The constant adjusting of the lights and the vibration of riding on the truck simply wears out the joints. We use collimater lighting technology to project the light both close to the apparatus and farther onto the work scene simultaneously and eliminate the need for such points of failure"
A little appreciated, yet critical, area for illumination is the compartment light. HiViz LED Lighting has a unique FireTech LED lighting solution to offer for Compartment Lighting as well with its flexible strip light offering. These 3 foot strips of light can provide up to 500 lumens in hard to illuminate tool trays. In addition HiViz LED Lighting offers a flat mount 2x4 inch panel LED compartment light which works well for illuminating deep and wide compartments.
HiViz LED Lighting is located in Lillington, NC and is owned and operated by firefighter and EMT, Sam Massa and his team of lighting professionals. For more information about how the FireTech Brow Light, Scene Lights, Work Lights, Compartment Lights or the FireTech SuperCharged Rebuild Program™ for handheld scene lights please contact HiViz LED Lighting by emailing sales(at)hivizleds(dot)com or calling the office at 703-662-3458.
FireTech is a product brand and SuperCharge Rebuild Program™ is a marketing program of HiViz LED Lighting. LiteBox ® and the LiteBox Series® is a product of LiteStream, Inc. Tele-Lite™ is the trademark of Tele-Lite, Inc. FlexPower™ is a trademark of HiViz LED Lighting.