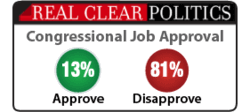 "Imagine a successful teacher, business man, or scientist contributing to the legislative process.How much more could we benefit from these people, than we do from someone whose sole motivation is to make a career out of sitting in that office?
Los Angeles, CA (PRWEB) April 22, 2013
The popular definition of insanity is attributed to Albert Einstein: doing the same thing over and over and expecting a different outcome.
It could describe the American mindset regarding Congress.
In response to this paradox, political action committee founder, Ian Clark, and other professionals are identifying the reasons behind what Americans say they want and what they do.
Here's the dilemma: A January 2013 Gallup Poll survey indicates a clear majority of Americans would vote right now for changes to the constitution imposing term limitations on the House of Congress, even though, election after election, voters return most members to the House and Senate.
Why the discrepancy?
According to University of Maryland professor, James Klumpp, who specializes in political communications, the disconnect is between the current process for producing a politician, and what voters really want in a representative.
At the heart of term limitations is the desire for what the professor calls, "the citizen legislator."
The case for a citizen legislator is very strong for Ian Clark. He's the founder of the recently launched political action committee, 12 Is Enough.
Clark founded the committee and launched the website as a remedy for what he sees as a "significant flaw" in the system.
Congress was slammed by the Baltimore Sun, after members defeated new gun registration legislation.
All but three of the 45 senators who voted down the bill in Congress have received money from firearms lobbyists, according to new analysis by the British national daily newspaper, The Guardian and the Sunlight Foundation.
Clark maintains that if citizens viewed sitting in Congress as a service to the country, like serving in the military, and were then expected to go back to their own occupations, some of the great minds in business, science, philosophy and other fields would be more willing to consider running for office.
Both men say the initial task in this movement is for leaders to clearly articulate the discomfort and resentment people feel about Congress. Once voters can put words to their exasperation, they can make clear decisions on what action to take.
To read the entire article and discover the reasons for voter resentment with the legislators we have, go to: 12isenough.com
###
12 is Enough is a Super PAC launched to respond on behalf of voter anger and resentment at career politicians.We are non-partisan organization and are dedicated to bringing about an amendment to the United States Constitution enforcing 12 year term limits on the Legislative Branch. We do not advocate for any political party, candidates, or issue other than ending career politics in the Federal government.
To interview founder, Ian Clark
Email Ian at: ianclark(at)12isenough(dot)com.
Call Ian at:310-699-6051
Go the 12 is Enough Website: 12isenough.com