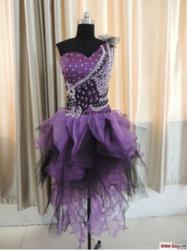 (PRWEB) April 21, 2013
Bridal-buy.com is a leading brand of wedding dresses. Now, the company is announcing the addition of plus size wedding dresses to its product line. In addition, any order for a plus size wedding dress can enjoy a discount, up to 60% off.
The plus size wedding dresses are offered in different styles. They are available in 16 colors and from size 18 to 30. For those who want to buy discount wedding dresses, Bridal-buy.com is an ideal place. Furthermore, the company is offering many bridesmaid dresses under $100 for its customers around the globe.
"We want people to see that they don't have to be rich to be able to afford our designs. Here, ladies find an opportunity to shop for a wide variety of plus size wedding dresses, they can also find cheap prom dresses, evening dresses, cocktail dresses, and more," says, a senior spokesman for the company. "In addition, custom wedding dresses are offered here without any extra cost."
Tracy, a customer from London, said, "The designs are just different from anything else out there and I love the aesthetic. It is just what I need. You guys are the best, and I love these designs!"
About Bridal-buy.com
Bridal-buy.com is probably best known for their amazing collection of lace wedding dresses designed by the hottest designers. Their mission is to get ladies in the best possible shape by offering different styles of women's dresses (wedding dresses, bridesmaid dresses, and more).