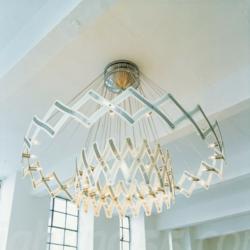 Zoom chandelier by Serien lighting
Tarpon Springs, Florida (PRWEB) April 23, 2013
Lighting55, Florida's luxury lighting store, has unveiled their latest collection of Serien Lighting fixtures. Conceptualized and designed in Germany, these modern Serien lights blend seamlessly with luxurious homes. Strikingly timeless and contemporary light fixtures become a part of the home architecture and transform the private space to match the owner's moods and personality. A sterling collection of handpicked lamps in stainless steel bodies and mesmerizing finishes accentuates the space and ups the glam quotient of any decor. Backed with an unquestionable customer service of Lighting55, these latest light fixtures from Serien Lighting are absolutely stunning.
Lighting55 has released a complete range of stunning lights from the original European brand. Each light fixture offers multiple lighting positions, illumination intensity, and functions. For example, the Zoom is a three in one product- a chandelier, a midsized suspension light when closed, and a sprawling illuminator with 20 halogen bulbs. It can be used in the dining room, the living room, and even the master bedroom. Unshielded lights dazzle the entire room and assume the silhouette of a flowing chandelier. In another Serien Lighting fixture, the lights are arranged on sliding lattice arms. This makes it ideal for high ceiling rooms that need a lot of light.
The Zoom XL throws light within a diameter of 1.30 meters. Translucent foils soften the light and release it in comforting rays that are just right for the space. What distinguishes these lights from others is their adaptability to the space. Users can adjust the fixture to release just enough light required. The light rings in the circular lattice can be closed and shut in to prevent excess light from flooding the family lounge. Another interesting feature of this light is that it can integrate three to four zoom fixtures into one and create mesmerizing light for a massive room.
Suzan C. from New York City, one of the thousands of satisfied customers reported, "These self adjusting lamps are great for any living space. As an interior decorator, I will definitely recommend these lamps to my clients."
The Zoom 1 is an elemental suspension lighting fixture and radiates light without obstruction. Flowing light rays fill every corner of the room and create an incredible artistic moment. Brushed stainless steel finish combines with steel chains to project a majestic feel and look to the room. Understandably, the Serien Lighting collection has won customer satisfaction.
Ken B. from Chicago was very excited about the authenticity of the lamps and pleased to find a European light dealer in the USA. He expressed his delight, "It's great that there is a cool web store in the United States that offers original Euro lighting products. I will purchase again from you for sure."
Another user, Sue, from New York echoed her sentiments for Lighitng55 customer support, "My experience with them was terrific and I would certainly recommend Lighting55 to other people."
Lighting55 modern and contemporary chandeliers are totally exclusive. Apart from the AAA rating granted by the Best Business Bureau, the company enjoys immense popularity among its domestic and international customers.