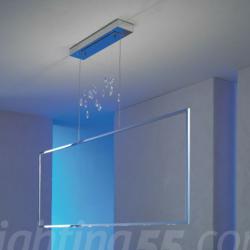 Air suspension by Escale
Tarpon Springs, Florida (PRWEB) April 25, 2013
Lighitng55 added another lustrous collection of exclusive German lighting fixtures to their online store. Touted to be the ultimate in original European fashion lighting, they have introduced the German brand Escale into their product panel. Suspension lights from Escale are finally within the reach of consumers who consider light fixtures to be beyond décor accessories. These lights come in materials as diverse as stainless steel, aluminum, and crystal to illuminate elite homes and to bring life to living spaces. Escale lights from Lighting55 are set to dazzle Australian homes. Customers have more reasons to cheer, since they are set to avail the famous Lighitng55 guarantee of quality and customer support that is associated with the company since its inception.
Peter from Sydney expressed his views, "I will certainly buy from Lighting55 again in the future. I have recommended your products and services to a lot of my friends who are in the architectural and interior design industry."
The latest light range from Lighting55, the Escale collection focuses on contemporary and modern lighting of perfect form and function. The Piano 3 suspension pendant light is a living room delight with seven adjustable shades suspended by magnets. This adjustable stainless fixture measures 67 inches in height and comes in various porcelain finishes. It is a strikingly beautiful light fixture that forces onlookers to take notice. The Della Luna Cristallo Suspension Light is another object of adoration in its cascading crystals and matte aluminum finish. There are two light sources that illuminate the fixture and cause them to diffuse the light throughout the room. It rises to 14 inches in height and is perfect for a bedroom or dining space.
Enigma 545 is another suspension light from Escale that radiates a mellow brightness across its shades. The light is soft yet distinct, and is perfect for those who dislike glaring light fixtures. In the four shades of the Enigma, light rays are distributed uniformly and this heightens the aesthetic appeal of the fixture. The base layer of the fixture is a rounded disc, so that no sharp light escapes unnoticed.
Needless to say, these modern suspension lights have been enthusiastically accepted by both domestic and international customers. Peter, an architect by profession remarks, "I was a bit skeptical about ordering lights online, but I received them in perfect condition! The packaging was done well and the lights are just great." This sentiment is echoed by yet another satisfied customer, Ahmed. "I have been buying stuff from them from the past three years, and I've never faced any problems," said the Boston based interior designer.
To add to customer satisfaction, Lighitng55 provides on-call electrical assistance to customers, so that they can install their fixtures easily and prolong the life of their lamps. The company employs a very experienced and knowledgeable panel of electricians who help customers fix light issues.
Lighting55 is a premium light fixture provider in the US and is an industry leader in providing luxury lighting to an international client base. It has been ranked AAA by Best Business Bureau and is famed for its quality products and reliable sales support.