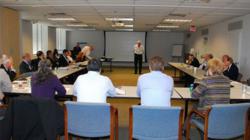 HSATM functions have consistently been at the corner of cutting-edge theory and 'bleeding edge' practice.
Hoboken, NJ (PRWEB) April 22, 2013
Charles Kalmanek of AT&T Lab Research and Jack Emert of Infineum Keynote April 30 Event
The Howe School Alliance for Technology Management (HSATM) – a business, government and academic alliance under the auspices of Stevens Institute of Technology's Wesley J. Howe School of Technology Management — will conduct a meeting on April 30, 2013, marking the 100th Roundtable gathering of HSATM partners and continuing HSATM's 22-year mission to advance technology management and commercial collaboration.
The 100th Roundtable will conclude a four-part investigation into best practices for launching new products and technologies. At the private event, Charles Kalmanek, Vice President AT&T Lab Research, and Jack Emert, Chief Scientist of Infineum, will describe their companies' experiences in formulating and managing strategies for innovation. Their presentations will complement the contributions made at three prior meetings by other HSATM partners – ARDEC, John Wiley and Alcatel-Lucent – who described features of their processes, along with problems and successes, in technology strategy. The meeting will close with a discussion summarizing the learnings from the four-part series and offering concluding guidance for successfully formulating and executing innovation strategy.
The HSATM Roundtables provide HSATM partners with the opportunity to discuss problems and exchange non-proprietary ideas in a collegial environment with faculty of the Howe School and with a network of people in a diverse group of organizations confronting similar issues in the management of technology. Roundtables have been held five times annually since 1992 and are led by HSATM Director Dr. Lawrence Gastwirt and HSATM Director of Management Technology Transfer Dr. Lemuel Tarshis.
The 100 Roundtables have addressed a broad range of issues: the challenge of organizational change in pursuit of innovation; transforming mindsets for collaborative innovation; managing the complexities of the virtual work environment; use of social networking and new communication technologies; understanding creativity to enhance innovation; managing cultural and generational diversity; communicating and gaining acceptance for new ideas; contemporary perspectives on motivation; application of the "new thinking" for leadership; crisis leadership; leveraging innovation globally; success factors in new technology implementation; achieving effective multi-disciplinary teaming; business process redesign; and many, many others.
"HSATM functions have consistently been at the corner of cutting-edge theory and 'bleeding edge' practice," said William Feuss of AT&T (retired). "The things that I've learned have affected how I think, what I do, and what I teach."
"Attending the HSATM Roundtables has allowed me to expand into certain areas where normally you would tend to be in a narrow stovepipe back in your own environment," added Nicholas Pera of U.S. Navy Strategic Systems Programs. "The broad breadth of thought and creativity here has proven to be invaluable over time."
"I am always amazed that I walk away with some new piece of information," concluded Jose Rodriguez of Verisk Analytics. "The Roundtables are very informative and rewarding."
The HSATM was founded in 1991 to help partner organizations better manage technology for strategic advantage through its bi-monthly roundtable meetings, annual conferences, periodic workshops and symposia, funding and dissemination of research by Howe School faculty, and its publication, KNOWHOWE: New Thinking for Management.
One of the visions of the founders of HSATM was the development of a curriculum devoted to the management of technology that would lead to a master's degree for working professionals. This HSATM initiative resulted in the development of the pioneering Stevens Masters in Technology Management for Experienced Professionals, one of the top programs of its kind in the nation. More than 900 people have earned this coveted degree to date.
Through its educational programs, its research, and its transfer of best management practices, the HSATM has contributed to the professional development of several thousand people over the past two decades. It continues to introduce and disseminate new thinking about the practical application of knowledge and its management.
For further information, please contact Lawrence Gastwirt at 212-794-3637 or lawrence.gastwirt(at)stevens(dot)edu, and please visit the HSATM website.
About Stevens Institute of Technology
Stevens Institute of Technology, The Innovation University®, is a premier, private research university situated in Hoboken, N.J. overlooking the Manhattan skyline. Founded in 1870, technological innovation has been the hallmark and legacy of Stevens' education and research programs for more than 140 years. Within the university's three schools and one college, more than 6,100 undergraduate and graduate students collaborate with more than 350 faculty members in an interdisciplinary, student-centric, entrepreneurial environment to advance the frontiers of science and leverage technology to confront global challenges. Stevens is home to three national research centers of excellence, as well as joint research programs focused on critical industries such as healthcare, energy, finance, defense and STEM education. The university is the fastest-rising college in the U.S. News & World Report ranking of the best national universities, and it is consistently ranked among the nation's elite for return on investment for students, career services programs, and mid-career salaries of alumni. Stevens is in the midst of a 10-year strategic plan, The Future. Ours to Create., designed to further extend the Stevens legacy to create a forward-looking and far-reaching institution with global impact.