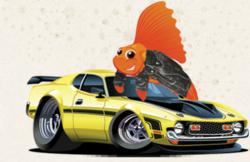 Think about it—I'm sure there are so many people that the only thing standing in between them and a house, or a car...
Chicago, IL (PRWEB) April 21, 2013
RoadFish.com men's lifestyle and finance magazine today issued their support for a Chicago non-profit that they feel do especially meaningful work in helping families and individuals turn their lives around. RoadFish.com praised and commended the Center for Working Families and their parent organization, Metropolitan Family Services, for helping people who truly need it to turn their credit around, making it possible for them to qualify for credit cards, loans, and other financial advances that could make a huge difference in their lives.
Wendell Hutson of DNAinfo reported that Jamaica-born Nigel Williams, who currently resides in Engelwood, IL, began his years as a U.S. citizen with having a credit score of zero. Such a score disabled him from purchasing a house, a car, and from even getting hired at certain jobs. Williams is quoted in the article as saying that in Jamaica, "You could use cash for everything and did not need a credit card… I quickly learned once I came to America that credit is a must over here." Hutson writes that The Center for Working Families at Kennedy-King College aided Williams in changing his credit score from a zero to a 701.
RoadFish.com was deeply moved to hear about Williams' success story, and all the good the Center is doing to help people cultivate their credit. RoadFish.com's Senior staff writer is quoted as saying, "I think it's a phenomenal thing that this organization is doing. Some might think that there are superior causes to be campaigning for, or volunteering for, but I would argue that helping people get their credit together is a pretty great thing to be doing. Think about it—I'm sure there are so many people that the only thing standing in between them and a house, or a car, or a student loan is a halfway decent credit score. What a great gift to give somebody, to help them work on establishing or bettering their credit. Imagine the joy of somebody who previously had no credit, or like a 300 score, checking credit report.com and realizing that their credit score is existent, or up to a 600. That's huge. That's life changing."
The above-mentioned article stated that the Center for Working Families (CFWF) has what it calls a Twin Accounts program, a system which is designed to help residents establish credit and progress their existing credit. The program consists of giving participants a $300 loan, which they then pay back incrementally as a way of establishing credit that is reported to the credit bureaus. A financial coach at CFWF, Vincent Perry, is quoted as saying, "Payments are reported to the credit bureau, which helps a participant improve their overall credit score. Usually it takes a year before a person starts to see a change on their [credit] report but Nigel did it in six months."
The DNAinfo article quoted Williams as saying, "In less than a year I had good credit. And I plan on keeping it that way, too," he said. "My wife wants us to buy a house and that's what we are going to do." The CFWF is housed by non-profit organization, Metropolitan Family Services.
About RoadFish.com:
RoadFish.com is an online men's magazine focusing on lifestyle and finance articles of benefit to men in their 30's and 40's who are have experienced moderate success in life and are hoping to achieve more. RoadFish.com writes pieces on everything from online dating services, to hot chicks, to restaurant reviews, to personal finances. The personal finance topics include how to keep a budget, how to beef up a credit score, and how credit scores can be affected by traffic tickets. RoadFish.com is owned and operated by Purpose, Inc.