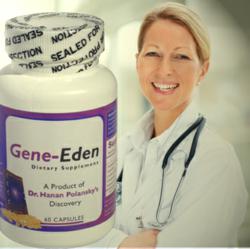 I feel like anyone with an increased risk of developing shingles should consider doing what they can to reduce the levels of VZV virus in their systems. No one wants to suffer a stroke." – Mike Evans, polyDNA
Rochester, NY (PRWEB) April 23, 2013
In a new study from the Journal of Neurovirology it was found that "Virological confirmation of varicella zoster virus (VZV) vasculopathy is provided by presence of virus in the cerebral arteries. Thus, the presence of VZV antigen in cerebral arteries of patients with stroke is likely to be clinically significant."(1)
In simple terms this means that the connection between the herpes zoster virus and suffering a stroke is very important.
Another study also reported that a herpes zoster attack lowers the survival rate. (2)
This is important information since, "…1 out of every 3 people in the United States will develop shingles, also known as zoster or herpes zoster." (3) In fact, anyone who has ever had chickenpox is at risk for developing herpes zoster. Even children can develop this affliction after a case of chickenpox. However, "the risk of disease increases as a person gets older" (3) as does the risk of suffering a debilitating stroke.
The public, especially those over the age of 65, should be aware of the dangers and risks of a herpes zoster attack. polyDNA recommends that these individuals educate themselves about Gene-Eden-VIR, a natural remedy designed to boost the immune system against latent VZV.
"Since VZV is the only recognized human virus able to replicate in cerebral arteries, (4) I feel like anyone with an increased risk of developing shingles should consider doing what they can to reduce the levels of VZV virus in their systems. No one wants to suffer a stroke." – Mike Evans, polyDNA
Currently, doctors only prescribe Blood platelet inhibitors such as Aspirin, Dipyridamole, Ticlopidine, Clopidogrel and Sulfinpyrazone are effective in reducing the risk for stroke.(5) However, these are for thinning the blood and are used to help prevent blood clots from forming inside arteries in the brain. These drugs do nothing against the herpes zoster virus.
In contrast, Gene-Eden-VIR was designed to boost the immune system against viruses like latent VZV. "The key to your health is to reduce the level of the latent viruses in your body to harmless levels." - Dr. Hanan Polansky
In a post marketing clinical study, Gene-Eden-VIR was shown to be safe and highly effective against the latent herpes zoster virus. Over 70% of Gene-Eden-VIR users reported a reduction in VZV symptoms. (6)
Each capsule of Gene-Eden-VIR contains a patented formula of five all natural ingredients including selenium, camellia sinesis extract, quercetin, cinnamomum extract, and licorice extract. In addition, each bottle is GMP Certified. (7)
To learn more about Gene-Eden-VIR, the only product on the market today that helps the body target the latent herpes zoster virus and that is scientifically backed by published material, visit http://www.gene-eden-kill-virus.com.
References:
(1) http://www.ncbi.nlm.nih.gov/pubmed/23456953
(2) http://f1000.com/prime/1165403
(3) http://www.cdc.gov/shingles/about/overview.html
(4) Kleinschmidt-DeMasters BK, Gilden DH. Varicella-zoster virus infections of the nervous system: clinical and pathologic correlates. Arch Pathol Lab Med. 2001; 125: 770–780.
(5) http://www.medicalnewstoday.com/articles/184601.php
(6) http://www.cbcd.net/Gene-Eden-VIR-Clinical-Study.php
(7) http://www.gene-eden-kill-virus.com/studies.php
polyDNA is a biotechnology company that develops dietary supplements using the unique scientific method developed by Dr. Hanan Polansky, which is based on Computer Intuition.
In addition to his unique scientific method, Dr. Polansky published the highly acclaimed scientific discovery called Microcompetition with Foreign DNA.
The discovery explains how foreign DNA fragments and specifically DNA of latent viruses cause most major diseases. polyDNA developed Gene-Eden-VIR, an antiviral natural remedy that helps the immune system kill latent viruses.