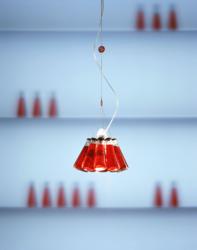 Campari pendant light by Ingo Maurer
Tarpon Springs, Florida (PRWEB) April 24, 2013
When it comes to exclusive luxury modern + contemporary lighting, Interior Deluxe delivers the finest light fixtures to modern, chic homes. The company has launched a dazzling new range of luxury lights from the European lighting giant, Maurer, and is ready to add a fashionable sparkle to plush interiors.
Each piece is crafted to perfection and combines metal, steel, silicon, glass, aluminum, and paper. The lights are one of a kind and supported by the goodwill of Interior Deluxe. With worldwide shipping and on-call electrical assistance, users can now order online and install their lights with professional guidance.
Light fixtures are crucial factors in the décor, and produce an elegant and harmonious interior. Take for example, the Kokoro floor lamp. In one dramatic artifact of metal, paper and glass, the lamp is a rare combination of simple lines, adjustable mirrors, and artistic skill. One halogen bulb of 50 Watts stands at the center of 31 ½ inches tall light fixture.
They also have the Campari suspension light which illuminates any space. This pendant light fixture is adjustable and is suitable for any room with a high ceiling. It is 59 inches long and follows German fashion lighting designs closely. One of the most interesting facts about this light is that it is fashioned out of empty soda bottles. Along with metal bases and plastic parts, Campari bottles of soda are used to design the pendant. This Campari light radiates without any obstruction to its natural flow and intensity.
In another eye-catching light fixture system, Interior-deluxe offers their customers with lamps that carry a tribal motif. Built from paper, glass, silicone, aluminum, metal and mirrors, the collection comes in two separate categories – the Watapunga and the Aikaduli. While the former is a lamp with a steel foundation, the latter stands on a brass pedestal. Both these types of lamps use a single halogen bulb of 50 watts and are available in different metal finishes.
There is no doubt over the popularity of the Ingo Maurer lighting range from Interior-deluxe. Ai Lin from CA was very happy with the smooth after-sales support she received from the company. She expresses her views, "My lighting fixtures arrived today, and I'm absolutely happy to see them! I want to thank you guys so much for all your support. Your help throughout the waiting duration is greatly appreciated!"
Another customer, Andrew from PA was very impressed with the online shopping experience, "I must say that shopping with you has been one great experience. It is very easy to order lighting products from your online store. I would certainly shop here again."
The company has functioned as one of the biggest suppliers of classy light fixtures and is a favorite with architects, interior designers, and homeowners who have a taste for the finer things in décor. The company offers free worldwide shipping to international clients. Customers can also seek professional assistance on call regarding the installation and functioning of the light fixtures. The company enjoys an AAA accreditation from the Best Business Bureau.