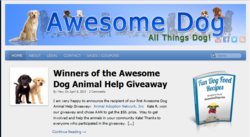 Spaying and neutering is the answer to the unwanted pet problem not only in our own community but everywhere.
Corydon, IIN (PRWEB) April 27, 2013
AwesomeDog.com recently held a contest to raise awareness for the important role dogs play in our society and to honor the memory of the founder's original Awesome Dog, Chevy. The contest was called the "Animal Help Giveaway" and even though the focus was on dogs, the $50 prize would be awarded to any group that supports and helps animals. Participants only had to submit minimal contact information in order to qualify for the contest.
The winner of the "Animal Help Giveaway" asked that the prize money be donated to a local animal rescue group, the Animal Adoption Network, Inc, which is a dog and cat service dedicated to finding homes for abandoned or surrendered pets in Corydon, Indiana. The folks at PetMatrix tossed in a generous assortment of Doggie SmartBones and SmartChews as a Bonus Gift. You can find their products at http://www.SmartBones.com.
Pat Armstrong is the champion behind all the animal rescues accomplished by the team at Animal Adoption Network. The Animal Adoption Network (AAN) has been in operation for over 10 years and is run by volunteers and fosters. They are a 501(c)(3) non-profit organization. AAN relies on the generosity of their foster home network of providers who step-up whenever needed. The local animal shelter often turns to the Animal Adoption Network for support when they have too many animals to house in the facility.
Additionally, the AAN takes in pets from people who can no longer keep their pets. Divorce, financial problems, death and allergies are the most common reasons people have to give up animals. The network of foster families take in these cats and dogs caring for them until the animal is re-homed.
According to Ms. Armstrong, "We take these pets into our homes and love them as much as we love our individual pets." She added that each potential adopter is screened prior to taking an animal home. They do not do "same day adoptions," but require adopters to complete an application and provide references which are checked. If the applicant already has pets, they ask for a veterinarian reference and then follow-up with the vet.
When asked what the most important thing their community can do to eliminate the number of unwanted pets that end up at the shelter, Ms. Armstrong stated, "Spaying and neutering is the answer to the unwanted pet problem not only in our own community but everywhere."
About AwesomeDog.com
Mary Kathan started AwesomeDog.com to celebrate dogs and the people who love them. The mission of the website is to give great tips and lighthearted entertainment to dog owners. Our motto is Love Your Dog!