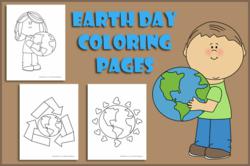 Reduce, reuse, and recycle together with the kids today and for the years to come.
Dallas, TX (PRWEB) April 22, 2013
Today is Earth Day. Teach the kids to take care of the Earth with cute Earth Day coloring pages released on Kids Activities Blog.
The 14 different coloring pages can be used to teach the kids about reducing, reusing, and recycling and can teach them to take care of Mother Earth. The coloring pages are versatile and can be turned into fun placemats.
The coloring page designs include a boy and a girl holding the earth each, the Earth with hearts, a reusable bag with fruits and vegetables, a boy and a girl recycling, throwing away trash and shopping, the earth with a reduce, reuse, and recycle symbol, the earth with a plant, and a tree.
Suggestions about how to print out the pages include printing them out on recycled paper or even scrap paper. Other ideas include folding the coloring pages in half after they are finished coloring to turn them into greeting cards. Framing the colored pages and turning them into Earth Day art and simply printing multiple pages per sheet are all ideas to help take care of Mother Earth.
For detailed instructions and to get additional resourceful ideas to help the earth, check out Kids Activities Blog this week. Come, get inspired to teach the kids how to take care of the earth for generations to come.
About Kids Activities Blog
Kids Activities Blog is a website created by two moms (who collectively have 9 children), Rachel Miller and Holly Homer from June Cleaver Nirvana. It is their daily goal to inspire parents and teachers to play with kids. This interactive website publishes simple things to do with kids twice a day. Kids Activities Blog is a great tool for moms and teachers to find kid-friendly activities that create memories and sneak learning into the fun.